It wasn't just the home crowd that gave the Spanish players a boost during their thrilling tie with Serbia on Wednesday. Both Albert Ramos and Roberto Bautista Agut praised the impact of their skipper Sergi Bruguera.
There are many things that make the Davis Cup special. The team environment, the passionate crowds and the tiered trophy to name just three, so it's sometimes easy to overlook one of the most fundamental differences between playing for your nation and playing on Tour.
The presence of your captain on the bench at the change of ends can make all the difference. A wise word, a calming influence or an impassioned plea. Whatever the player needs to get over the line or get back into the match, the captain's job is to ensure that happens.
Spain's skipper clearly has the respect of his players and his impact on the home side's hard-fought win against Serbia on Wednesday was commented on by both singles players after their matches.
"I am very happy with Sergi," said Bautista Agut after his win against Miomir Kecmanovic. "He has done a good job. 
"He has a lot of experience as a former player and has been through many situations and that helps us a lot. It is no coincidence these years that we have been with Sergi we have achieved all good results in Davis Cup."
It is no coincidence these years that we have been with Sergi we have achieved all good results in Davis Cup.
It's always interesting to see the different styles that captains take on the bench. In Valencia, all four skippers bring their own personalities to the job. Bruguera is a mix of emotions, animating the players and feeding off their needs.
Bruguera himself played down his importance. 
"That's what I'm there for," he said with a smile in the post-tie press conference. "The truth is that it's very lucky that I can be on the seat. If you are there, you can talk more, because if there are some issues or something has happened, it requires more time to explain. 
"It's good that we have this event and that the coach is there to help."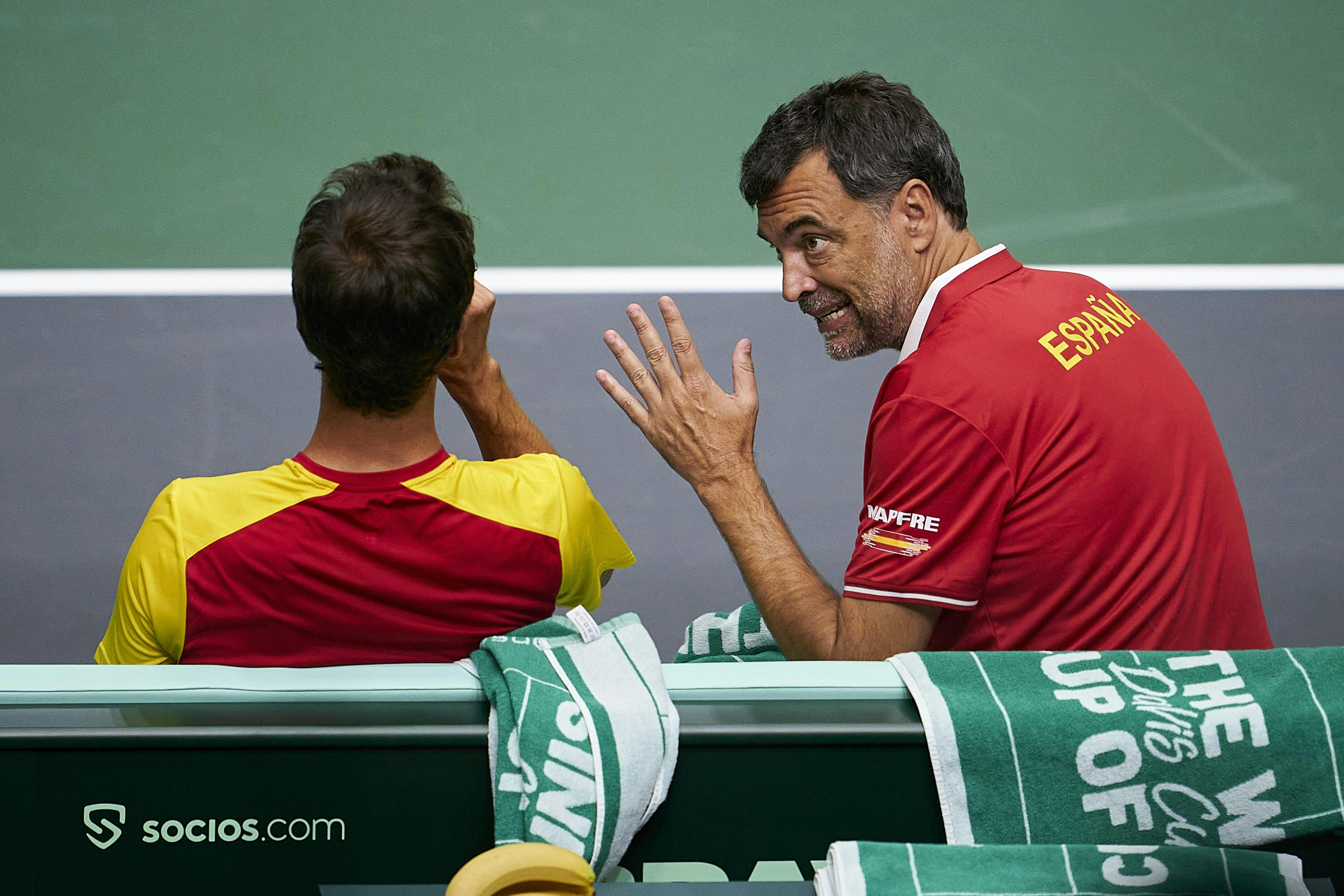 And in some cases it's not just the captain who can influence proceedings from the bench. In Canada's tie against Korea Republic on Tuesday, Felix Auger-Aliassime spoke of the impact that team-mate Vasek Pospisil had on the outcome of the match.
Asked what Pospisil was saying to him, Auger-Aliassime answered: "I don't think I can repeat everything that was said.
"He really tried to pump me up, the team up. He said, 'You know what, we're down 3-1, but we're not so far. If we push here, win this game, we'll get a chance to break back'. 
"I think the most important from Vasek was really putting the belief into me and the rest of the team. I think the bench also felt that. [And they] Got even louder. 
"From that point on, we rode the wave for the last three games. It was unbelievable." 
As Pospisil explained, that was the edited version of what was said.