After the Russian Tennis Federation's straightforward win against Germany in the semi-finals, Daniil Medvedev brought the drama by provoking the crowd, and then reflected honestly on where that side of his personality comes from.
On Saturday, the Russian Tennis Federation eased into its first Davis Cup final since 2007 courtesy of victory over Germany. Andrey Rublev set the tone with a 64, 60 demolition of Dominik Koepfer and then Daniil Medvedev finished the job by beating Jan-Lennard Struff 64, 64. It was decidedly routine, comfortable, and predictable. 
But when Medvedev is involved, you should always prepare for some drama, and he didn't disappoint. Indeed, after his match, he staged a provocative celebration - waving his hands, stomping his foot on the ground, and quieting the crowd - which sparked boos and whistles from many of those inside the Madrid Arena. 
And he wasn't done yet. During his on-court interview, Medvedev continued to rile the Spanish fans. 
"I'm really happy for the team to be in the final", he said. "Amazing two weeks so far for us. Beating Spain was the highlight, I think beating Spain in Madrid, for all of us in the locker room we are so happy to beat the home favourites. It started in 2019 but I'm not going to be tired to say it. People still don't understand how to make me lose, they should support me, so it's ok guys, continue, and I'm going to just win."
Naturally, Medvedev's show was the subject of much attention in his post-match press conference where he explained what it was all about. 
"After the match, if I celebrate I like to do something fun", said Medvedev. "In our team, especially, what is funny is [that a] Spanish coach doesn't know a lot of Russian words, [the] coach of Karen [Khachanov]. [But] he knows how to say 'calm down'."
"When we play cards or play tennis or football or anything, when somebody wins, he's like, 'Calm down, calm down'. When Cristiano [Ronaldo] played in Madrid, he was doing this celebration a lot of times. That's why I decided to do it. I felt it was fun."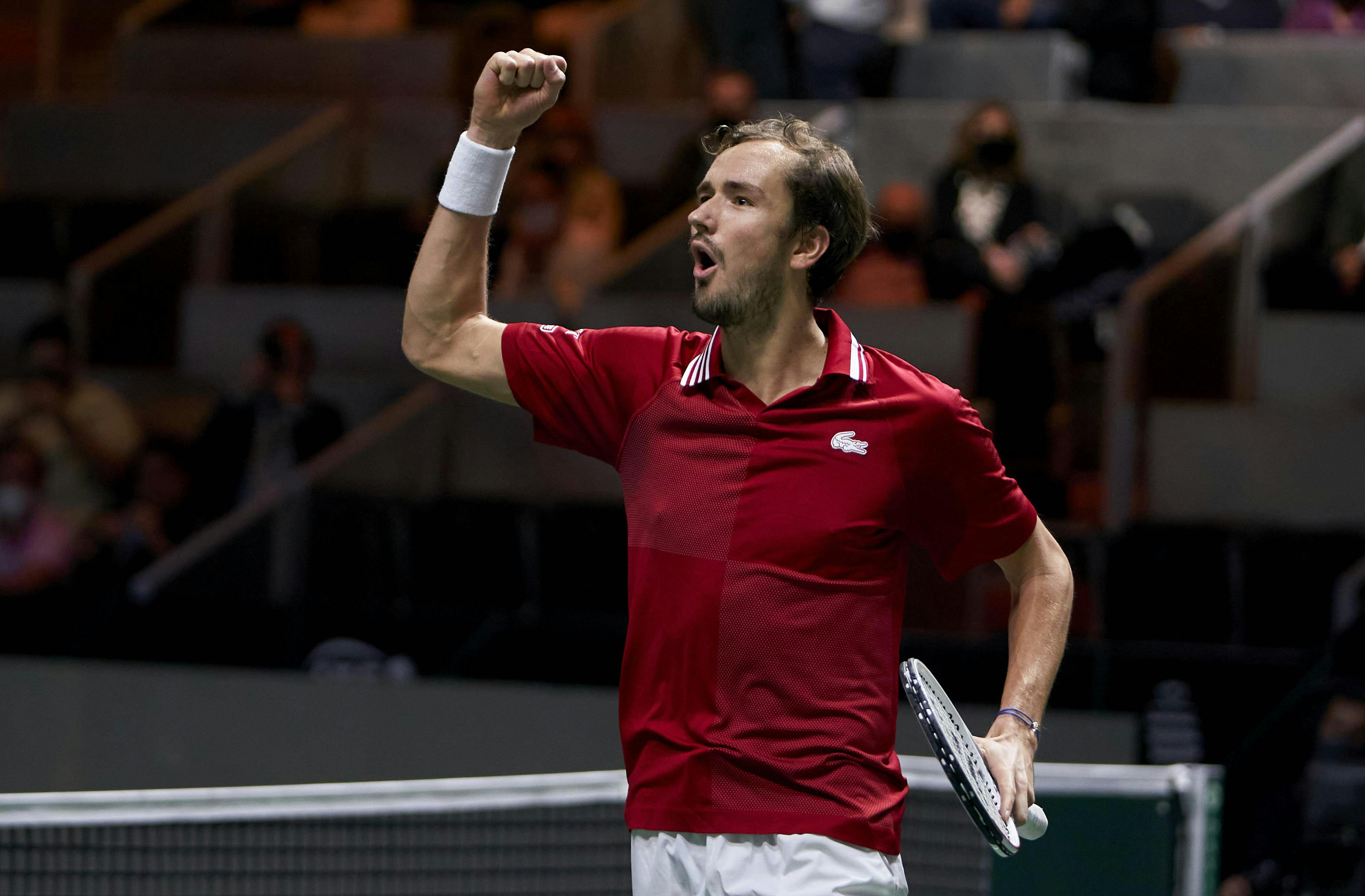 It is not the first time that Medvedev has caused controversy on court. Famously, he told the New York crowd two years ago, "I want all of you to know when you sleep tonight, I won because of you", as jeers rained down on him. 
Asked on Saturday whether he was playing a game with spectators, the world No. 2 made it clear that there is no premeditation in what he does.
"It's a game which I don't play on purpose. Everything I do, especially on the court even more than in life, is pure emotions."
"On tennis court, it's a lot of adrenaline going on. I hate to lose. There is less time and less power in myself to stop and think. So, I go with emotions which sometimes is good, sometimes is not good."
"When you play a tennis match, you are alone there. There is 20,000 people, sometimes for you, sometimes against you, sometimes 50/50. If I do something to provoke them, it's actually not to make them mad or sad or against me. It's something that I feel in this moment. We see it in any sport."
How come you're not like Roger and Rafa? Guess what, everybody is different
Medvedev is part of a new generation of players taking over from some of the most successful men in the history of the sport. For him, this generational shift will not only bring new faces to the top positions in the rankings but also a more diverse array of characters.
"I think the tough part for the young generation, because we had Roger and Rafa, they are probably one of the fairest sportsmen in all the history of the sport, and they were both playing together, and they both won amazing titles. Now when somebody in tennis is not like this, people tend to not like them and say, 'How come you're not like Roger and Rafa?' Guess what, everybody is different.
"I think the moment when they retire and there are going to be new fans who didn't see Roger and Rafa live, that's when it's going to come back to where people are going to like other characters than this."
Medvedev, who remains unbeaten this week, will lead the Russian Tennis Federation in Sunday's Davis Cup Final against Croatia. If you hear boos, it's probably because he's won. 
#DavisCupFinals #byRakuten