"Yeah, it's been a strange one I would say," Australia's Alex de Minaur says as he looks back on his 2021 odyssey. "Lots of ups, lots of downs."
A lot has certainly happened to the Australian in the space of 12 months. There's the fourth and fifth title wins of his career at Antalya and Eastbourne, and the subsequent rise to a career-best No. 15 in the ATP rankings back in June. Then there's the bout of Covid that ruled him out of the Olympic Games in July, and the struggles to rediscover his early-season form.
"I started it really well," he said. "Got Covid, a couple of unfortunate events. Maybe at the start of the year I would have hoped to have finished it differently. But hey – really looking forward to finishing the year with a bang here in Turin."
Australia face Group D rivals Croatia at the Pala Alpitour on Thursday before taking on Hungary on Saturday, and a long-overdue chance to pull on his country's colours is just what de Minaur needs as he looks to end his season on a high note.
"It's amazing what coming back into a team environment does," said the world No. 34. "You've had a long year and not the best results at the end of it, but just being back in the team environment, it lifts you up. Attitude, energy, intensity, they're all just better. I'm hitting the ball better than ever, and I'm looking forward to representing the green and gold and hopefully playing some of my best tennis for my country."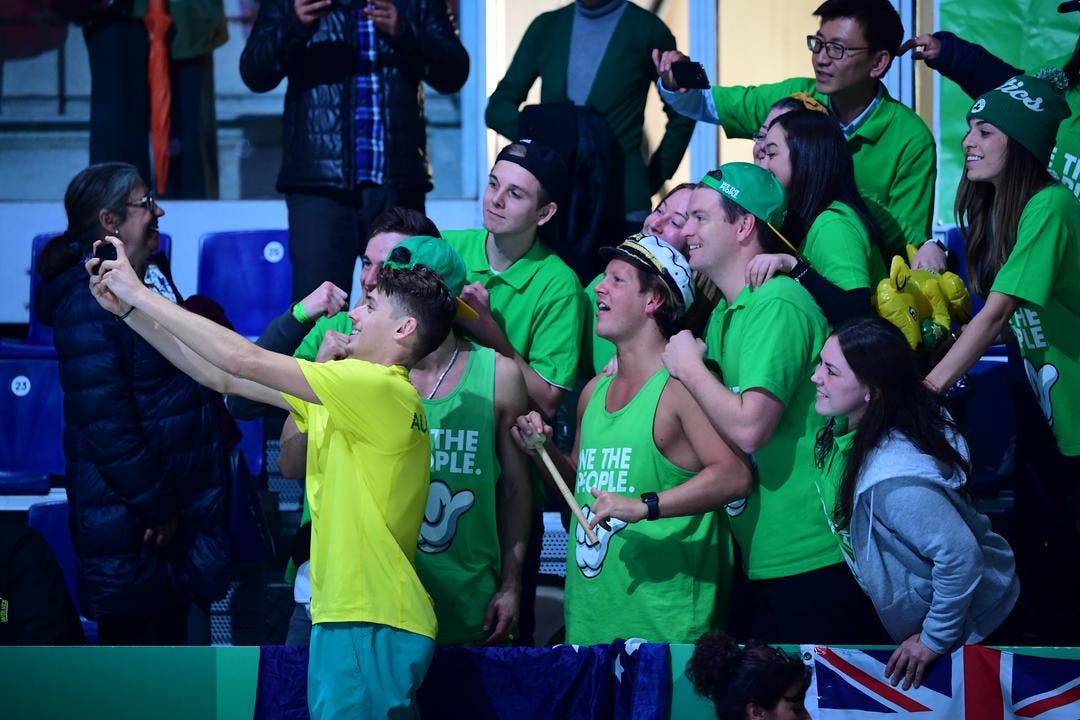 Just being back in the team environment, it lifts you up – attitude, energy, intensity, they're all better. I'm hitting the ball better than ever
Central to that top level de Minaur is tapping into is his on-court dynamism, a trait he says is as much down to mentality as some well-trained wheels around the court. It's been his trademark since his junior career, but don't make the mistake of thinking De Minaur was simply born to run.
"In the early days I did a lot of fundamentals with the technique of moving," he explains. "Then you grow into your body – I ended up being able to use everything I learned, and as I grew, speed came with that. Then there's mindset: not to let any ball past you. Even if you don't make it, make sure you get a racket on it. You keep doing that a fair bit, you'll get to those balls and make your opponent play an extra ball. That's the whole purpose of it."
Australia return to the Davis Cup by Rakuten Finals having reached the quarter-finals in 2019, a season that saw de Minaur go undefeated through four matches after leading the side in Madrid aged just 20. It's the sort of year that underscores his value to captain Lleyton Hewitt's quintet in Turin, and the levels de Minaur can hit while wearing 109 on his shirt – the number denoting his place in the roll call of Australian Davis Cup players, an honour so meaningful to the 22-year-old he has it tattooed on his chest. 
But the hard work starts now if de Minaur and Australia are to emerge from Group D and fight for a place on the plane to Madrid by coming through Monday's quarter-final clash with the winners of Group E.
"We're in a strong group with very tough matches all round," insists the Australian No. 1. "We're going to be in for a couple of battles. The team has got a lot of options – we're all playing great tennis, there's great team chemistry. We're all just looking forward to getting out there and competing. Being able to represent Australia is a special honour and privilege and I think we're all ready to leave it all out there and finish the year as strong as we can."
#DavisCupFinals #byRakuten