The 34-year-old has landed in Innsbruck and intends to lead his nation's latest title charge
Despair and emotion dominated their last press conference, but with star turn Novak Djokovic eyeing Davis Cup silverware there is renewed optimism within the Serbia camp that any weeping this time around will be tears of joy.
It is almost two years to the day since several members of the Serbia team broke down in the aftermath of their quarter-final defeat to the Russian Tennis Federation at the 2019 Davis Cup by Rakuten Finals in Madrid.
World No. 1 Djokovic and Viktor Troicki, who was appointed Serbia's Davis Cup captain in December 2020, had just lost a tight and tense doubles showdown with Karen Khachanov and Andrey Rublev in the Spanish capital.
It was a loss that sealed their fate at a time when thoughts were straying to Djokovic and Troicki reprising their title-winning heroics from 2010, when Serbia dispatched France in Belgrade to claim their maiden Davis Cup title.
The pair are back together this week in Innsbruck, with Troicki at the helm, as Serbia plot a course to the Davis Cup summit, and Djokovic believes Friday's showdown with Austria could be the start of a prosperous journey.
"It is great to be back with the Davis Cup team," said 20-time Grand Slam champion Djokovic.
"We did not have Davis Cup last year so the last memory we had was a sad one. We were all very emotional because of that ending, but we are also very motivated to come back together and give it another go.
"We knew that opportunities would come and here we are again. We are very good friends off the court, we get along very well, and I think the chemistry in the team is fantastic, and that is one of the essential ingredients for success.
"I was the last player to join the team, Tuesday was my first day, but I got the chance to practise with the guys and I can see the atmosphere is really good.
"We are hoping for the best. We all have a lot of inspiration to play our best tennis for our country and for each other as well. We support each other, while we have great friendships and great relationships within the team, which can only bring good things."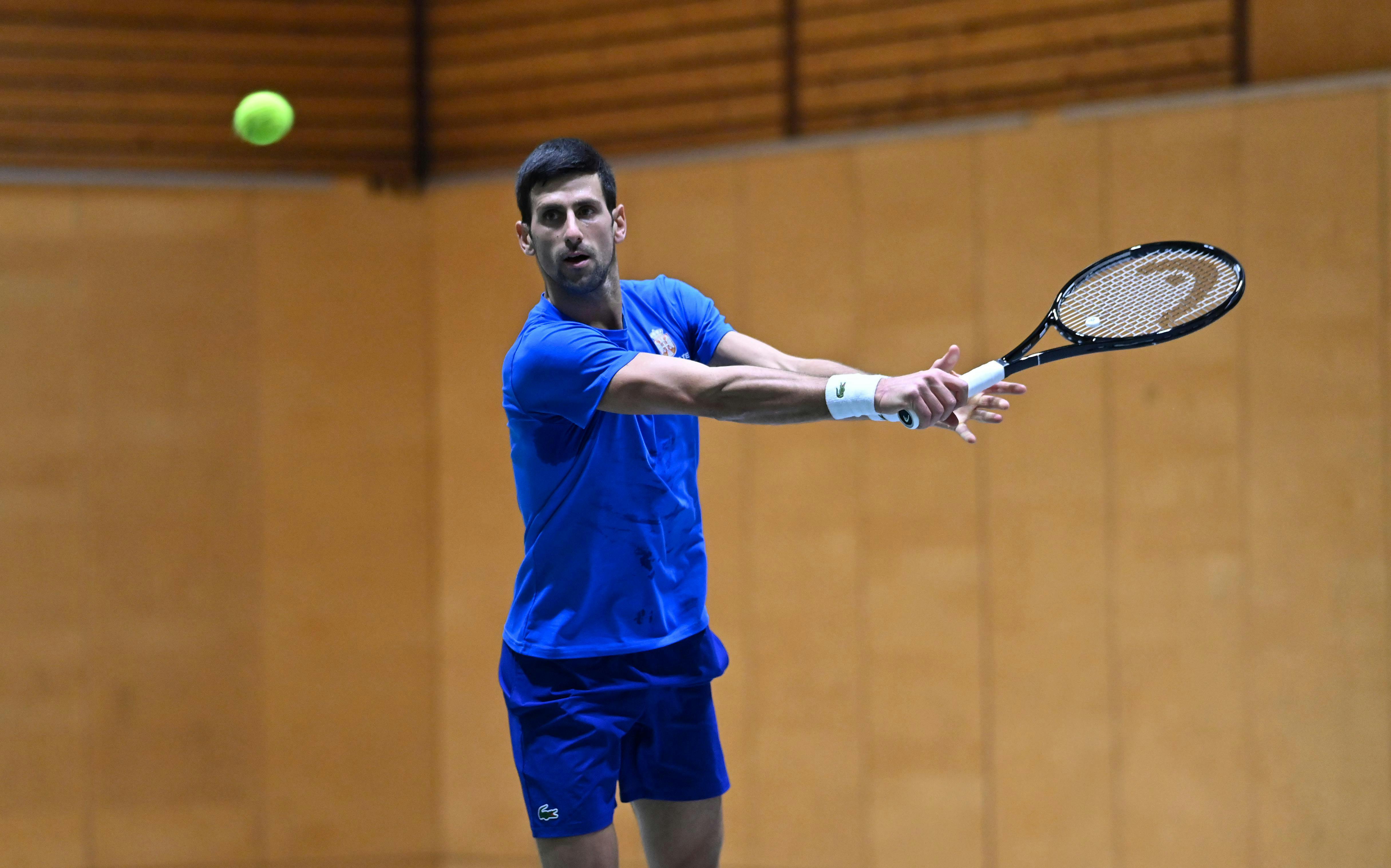 This year's Davis Cup Finals are a pan-European affair with ties being played in Madrid, Turin and Innsbruck. The six group winners will advance to the quarter-finals, as will the two best-performing runners-up.
After Friday's tussle with Austria, Serbia face Germany on Saturday with a potential quarter-final tie in Innsbruck on Tuesday against the winners of Group C, which features Czech Republic, France and Great Britain, the immediate aim.
With Austria and Germany both missing their highest-ranked players in Dominic Thiem and Alexander Zverev respectively, the presence of Djokovic, who has contested 28 Davis Cup ties since his tournament debut in 2004, is a major tonic for Serbia.
His first opponent is likely to be Austria's Dennis Novak, who is ranked No. 118 in the world. The two have never previously faced each other, while Novak is still awaiting his first victory over a top-10 opponent.
Djokovic, who is bidding to extend a 15-match winning streak in Davis Cup singles – he has not lost a singles match in the competition since retiring against Juan Martin del Potro during Serbia's 2011 semi-final defeat to Argentina – has no intention of obliging.
"I am sure that Germany and Austria would like to have their best players but that is not the case," added Djokovic. "Without them, they are still strong teams, especially Germany who have players like [Jan-Lennard] Struff and [Dominik] Koepfer, who have had big wins.
"Rankings don't play a decisive role on court, especially when you are playing Davis Cup for your country. It is a whole different feeling and you go on court with a different sensation and can play the best tennis of your life.
"Guys who are Nos. 100, 150 or 200 in the world are playing some great tennis and, on any given day, they can be dangerous. I don't disrespect or underestimate anyone.
"Regardless of an opponent's ranking, I am preparing for my matches here as much as I am preparing for any other. I have never played Dennis, for instance, but I will do my homework.
"I am going to do my work in the background and then try to get out there with a good intensity from the very beginning and get the win for my country."
Guys who are Nos. 100, 150 or 200 in the world are playing some great tennis and, on any given day, they can be dangerous. I don't disrespect or underestimate anyone.
Due to Covid-19 restrictions and measures taken by the Austrian government in recent days, ties at Olympia-Halle in Innsbruck will be played behind closed doors.
Djokovic and his team-mates were expecting to be cheered on by a large Serbian contingent, although the 34-year-old is unwilling to allow anything to distract him from the primary focus of powering his nation's latest Davis Cup title bid.
"Of course, we are sad we will not have crowds," said Djokovic, who is joined in Innsbruck by Filip Krajinovic, Dusan Lajovic and potential debutants Nikola Cacic and Miomir Kecmanovic.
"Crowds are very important and an integral part of professional tennis, of our careers and our lives. The energy we get from this interaction with crowds is something we feed off.
"It is a drive we need and the motivation we need, especially in a competition like Davis Cup where more cheering is allowed and you are expecting an atmosphere which is more vibrant.
"But it is not going to be the first time for any of us playing in any empty stadium, we have experienced that in more than a few tournaments in the last year and a half. We will adapt and give our best.
"We are hoping to get to Madrid [where the semi-finals and final are being held], that is definitely a goal, but it is a long way and there is not too much room for mistakes. Our aim is to try and win the group and go forward and progress as the winners of the group."
#DavisCupFinals #byRakuten