In addition to being a former world number one, current Davis Cup captain and the country's most successful player in the competition, Hewitt demonstrates how far his passion for tennis goes. Don't miss his history lesson in this sensational selection.
Lleyton Hewitt considers his answers, but only for a short time. His reflexes sitting on a sofa reviewing his country's tennis history are almost as fast as those he displayed on court; question-answer as if it were a rally building up to a winning point.
Hewitt also decides not to choose himself for any of the proposed skills in the construction of this Australian dream player although he is on the verge on occasions: "Backhand?" "Can I choose myself? ha ha ha... no, I'm just kidding. I should have the backhand of Ken Rosewall" he says, determined to choose one of the Australian legends of the fifties. Rosewall made his Davis Cup debut in 1953, winning the title that same year and adding two more in 1955 and 1956. A contemporary of Rosewall will provide the talent. Hewitt chooses that quality from another player who also made his debut in 1953, Lew Hoad, four-time Davis Cup winner. He heads back further in time to Frank Sedgman, who made his name in the late forties, to choose fitness.
He jumps to the sixties to assign two more qualities, mentality and volleys. Hewitt takes advantage of the first to pay a small tribute to Tony Roche, Davis Cup champion on four occasions, the last in 1977 at 31 years of age. And for volleying, an Australian specialty, he again chooses Roche as well as John Newcombe.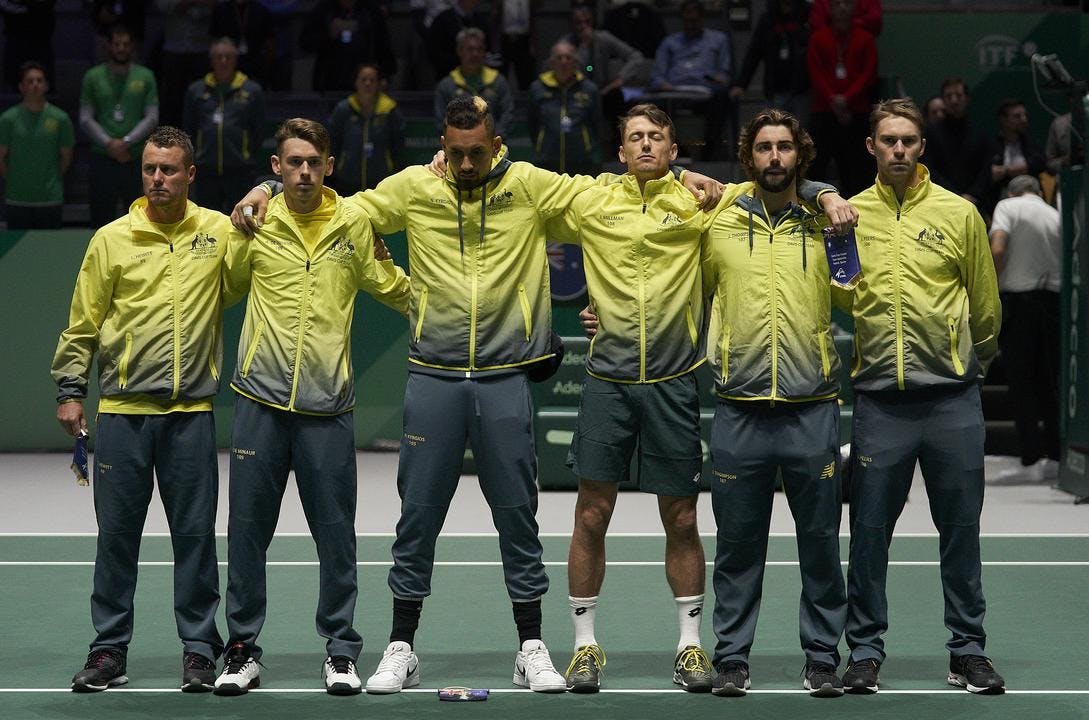 He makes a leap forward through the years to include another unforgettable Australian tennis player in this fantasy, a player who is much more contemporary: Pat Rafter, from whom he chooses the smash. 
And what about his current Davis Cup troops? Hewitt doesn't forget about them. Impressed – as they all are – by the power of Nick Kyrgios, he chooses from him both the serve and the forehand, while he select's Alex de Minaur's return and footwork.