When Croatia meets the Russian Tennis Federation in Sunday's final, both sides will be aiming to win the Davis Cup for the third time. 
It promises to be a fascinating battle and you can make a strong case for both teams. Croatia took down a Serbian side containing World No.1 Novak Djokovic in the semi-finals. RTF beat home favourites Spain in the Group Stage and secured dominant wins over Sweden and Germany in the Knockout Stages.
The Croatians boast the strongest doubles players, with world No.1s Nikola Mektic and Mate Pavic having not dropped a set in any of their four matches. The Russians have the most formidable singles unit, with world No.5 Andrey Rublev and world No.2 Daniil Medvedev combining to win seven of their eight matches this tournament. Both sides are undefeated. Both sides have pedigree in this event. And both sides are desperate to win.  
In short, something will have to give. 
For Croatia, the most successful Davis Cup team in recent times, this is a third final in five years, following their 2016 defeat to Argentina and 2018 victory over France. Having experienced both the old and new format, Marin Cilic says there are some different challenges but that the feelings remain the same. 
"The team did incredible job making it to the final, third one in five years is something exceptional and doesn't happen very often even in these last 20 years of Davis Cup. For Russian team, probably the strongest team there is at the Davis Cup. Going against them is absolutely [a] difficult task. But still [a] final is a final. We have our own strengths.  We are enjoying to be here. We're going to have great joy playing in the final again.
"It's [been] a long tournament, it's a long stretch. We came to Turin two weeks ago, preparing, playing matches. We had a little bit of [a] tough schedule playing Thursday and then Sunday. It was also adapting to that, adapting to this new format. Every single match counts a lot, so you have to really be at the top of your game. All of us did as much as we could to make it to the final."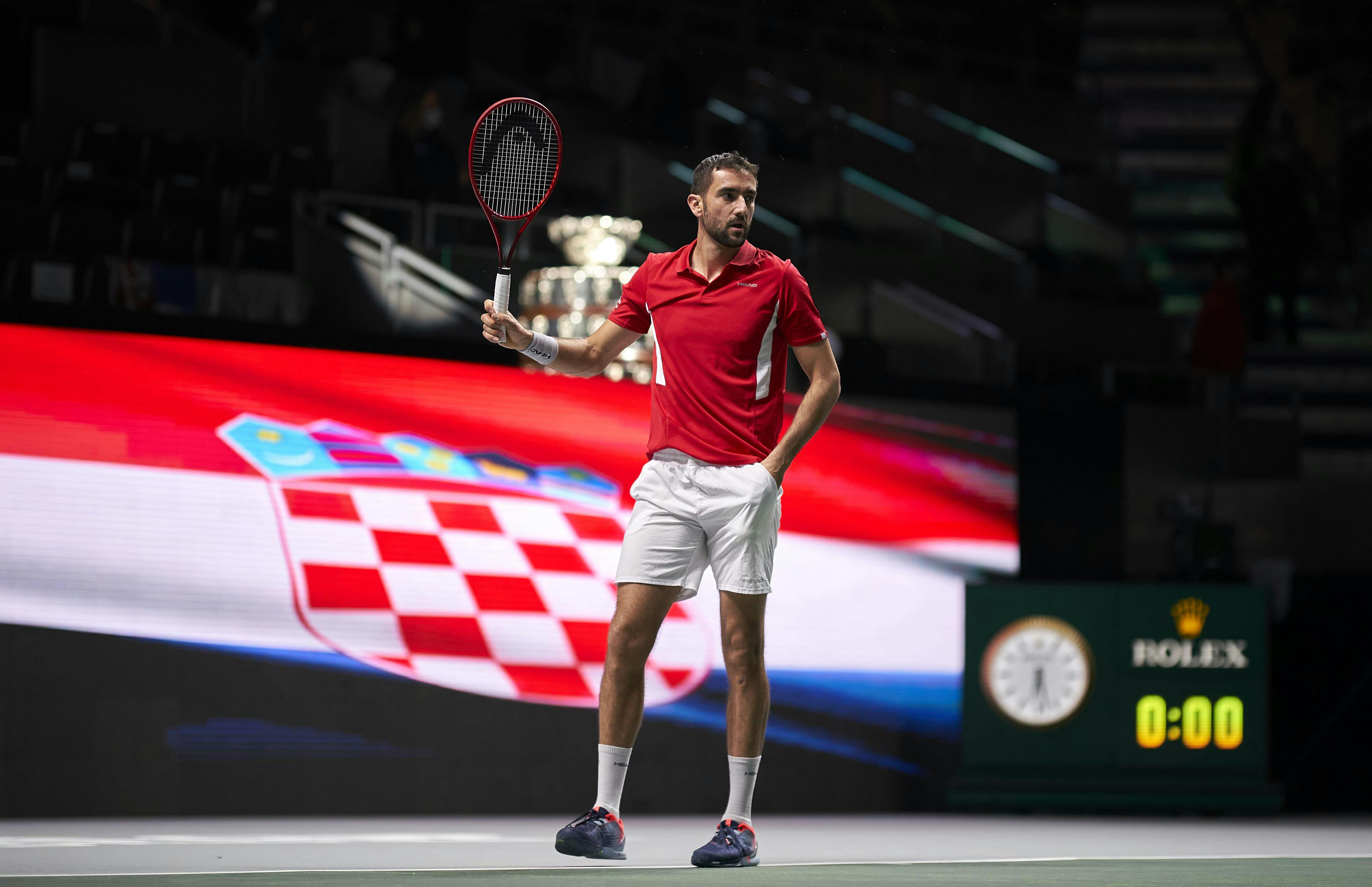 Much like their semi-final against Serbia, the key for the Croatians will be finding a way to win one of the two singles and extend the tie to the doubles. 
As unlikely as it sounds, that responsibility will probably fall on the shoulders of world No.279 Borna Gojo. While Cilic has won just one of his four matches, and will have his hands full against Medvedev, Gojo has emerged as the surprise package, winning all three of his singles matches against world No.61 Alexei Popyrin, world No.27 Lorenzo Sonego and world No.33 Dusan Lajovic. 
The entire final could come down to whether or not he can keep it going against Rublev. The pair have met once before, at the 2019 Davis Cup Finals, when Rublev won 63, 63 as RTF beat Croatia 3-0 in the Group Stage. But this is a different Gojo. 
 "I don't remember many things from our match", Rublev says. "He's winning really great matches this week. Here the ranking doesn't matter. If the player is 200 something, 30, everyone can show his best level here and they can beat great players. This is normal. So we'll see. Now he's having confidence, he's playing on a great level. He showed three great matches."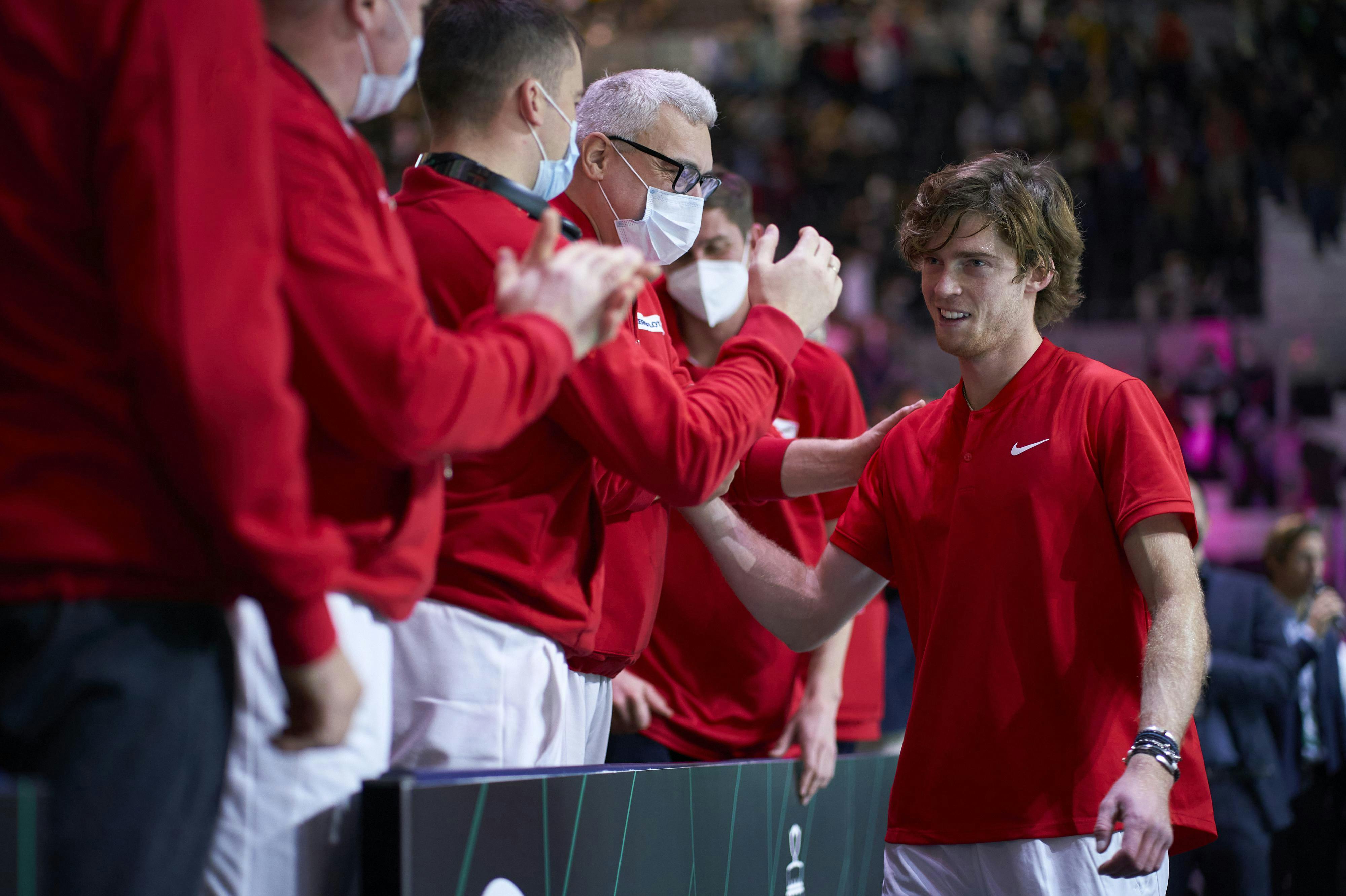 After a pretty barren spell in this event - between 2011 and 2018 they didn't once reach the quarter-finals and even dropped down to Europe/Africa Group I at one stage - the Russian Tennis Federation has emerged as a real Davis Cup force, with four singles players ranked in the top 30. Karen Khachanov, whose only appearance so far this tournament came in the dead doubles match against Germany, would have been the No.1 ranked player in 12 of the 18 teams at these Finals. 
Moreover, if RTF wins the title for the first time since 2006, it will complete a clean sweep of national competitions in the last month, after the Russian women won the Billie Jean King Cup Finals in Prague. The last nation to do the double was Czech Republic in 2012.
Victory for RTF would also cap a special week for captain Shamil Tarpischev. The longest-serving Davis Cup captain of all time, he first appeared in the hot seat back in 1974, and contested his 100th tie as captain in the semi-finals against Germany, after which he was presented with a cake on court. But the real celebrations are being saved for Sunday. 
#DavisCupFinals #byRakuten