The Russian Tennis Federation has won the Davis Cup for the third time after beating Croatia 2-0 in the final in Madrid. Andrey Rublev beat Borna Gojo 64, 76(5) in the opening match and then Daniil Medvedev clinched the winning point with a 76(7), 62 victory over Marin Cilic. 
It's the first time RTF has won the Davis Cup since 2006 and it completes a clean sweep of the national team competitions in the last month, after the Russian women won the Billie Jean King Cup Finals in Prague. Only three other nations in history - USA, Australia, Czech Republic - have ever achieved this feat, and this is the first time it's been done since 2012.  
For Croatia, this was a third final in five years, and the aim had been to take the tie all the way to the deciding doubles, when world No.1s Nikola Mektic and Mate Pavic would take to the court, but overcoming RTF's singles strength proved a step too far.
With four players ranked in the top 30, the Russian Tennis Federation was the favourite for the title when the event started ten days ago, and the team certainly made good on its outstanding talent, only losing one live match throughout the entire tournament. Medvedev in particular was formidable, winning all five of his matches in straight sets. 
"It feels amazing", Medvedev said afterwards. "But I'm more happy for the team than for myself. We have an amazing team, amazing atmosphere. I'm happy to be part of it and bring the points we need. It's never easy to come here at the end of the season but they were some of the best weeks of my career."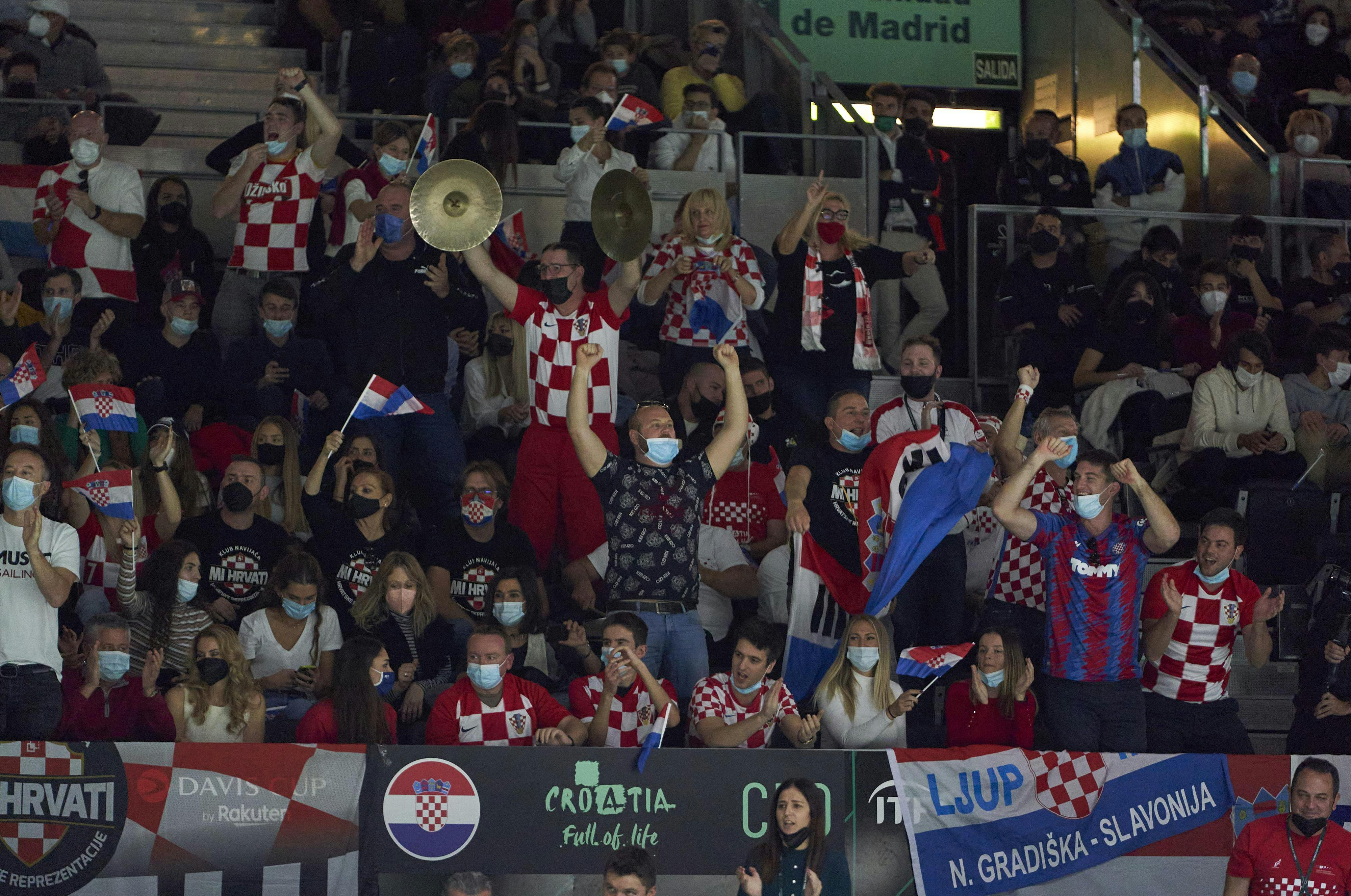 For Rublev, a gold medallist in mixed doubles at the Tokyo Olympics this summer, team competitions have brought out the best in him this season, and he's clearly enjoyed the camaraderie. 
"Team competition is always special. Normally we don't have much time to spend together. These kind of competitions, we have to be together almost every day, eat together, have breakfast together, spend time together. This is something special that we are missing that we don't really have time to do. These kind of events, they give us this chance. It's a great feeling because then you have a lot of memories. This is the most important thing."
With the unbeaten Medvedev lined up for RTF in the second singles, and the world No.1s Mektic and Pavic ready for Croatia in the doubles, the opening match felt absolutely crucial, and the intensity was high from the start. 
In the first game, Rublev won a scintillating 36-shot rally with a backhand pass to set up break point, only for Gojo to save it and get himself out of trouble. Rublev kept the pressure on with a quick hold of his own and then forced Gojo to save another break point with an ace. 
By now the pattern of the match had been established - Rublev was racing through his service games, winning 12 straight points on serve, while Gojo was having to work much harder behind his delivery. Eventually, this pressure told. At 3-3, a couple of loose shots from Gojo let Rublev in and then two more errors from the Croatian - this time forced by Rublev's relentless aggression and the speed of his shots - meant that the Russian finally had the break he deserved. 
It's never easy to come here at the end of the season but they were some of the best weeks of my career (Daniil Medvedev)
And it wasn't long before he'd won the first set, underlining his dominance by only losing two points on serve. 
Having won all three of his matches en route to the final, Gojo had made a habit this week of playing above his average level and beating higher-ranked opponents, but he was finding it much harder to live with Rublev's sustained power from the baseline. 
The one thing keeping the match close was Gojo's ability to play and serve well on most of the big points. This trend continued at the start of the second set as he saved five break points across his opening two service games, including a gutsy hold from 0-40. It left Rublev with a 12% conversion rate on his break points. 
With 150 Croatian fans having flown in specially for the final, the overwhelming majority of the vocal support was for Gojo. This, combined with Rublev's struggles at closing out matches in straight sets this week, must have given Gojo belief. While he continued to get nowhere near Rublev's serve, the longer the set went on, the tighter and more stressed the Russian became, unable to deliver the hammer blow. 
Eventually, the set wound up in a tiebreak. Gojo, who'd served 14 aces up to this point, immediately got off on the wrong foot with a double fault, and things looked bleak when he left a backhand pass that landed in. But he worked his way back into it and forced Rublev to conjure up his best level. A stunning sequence of forehands - first a passing shot up the line and then a devastating winner from the baseline - set up match point. When Gojo's backhand drifted wide, it was over. 
"It was a really tough match", Rublev said. "It's true that I have a lot of pressure today because looks like I should win. But he was playing really great during all the event. He beat really great players. Today he was playing also really great. But I was lucky enough to win the match. In the second set I was a bit showing emotions because I feel that I'm really close to win the match. Somehow he always was serving really well and really hard that I could not do anything. But in the end I win the match and this is the most important thing."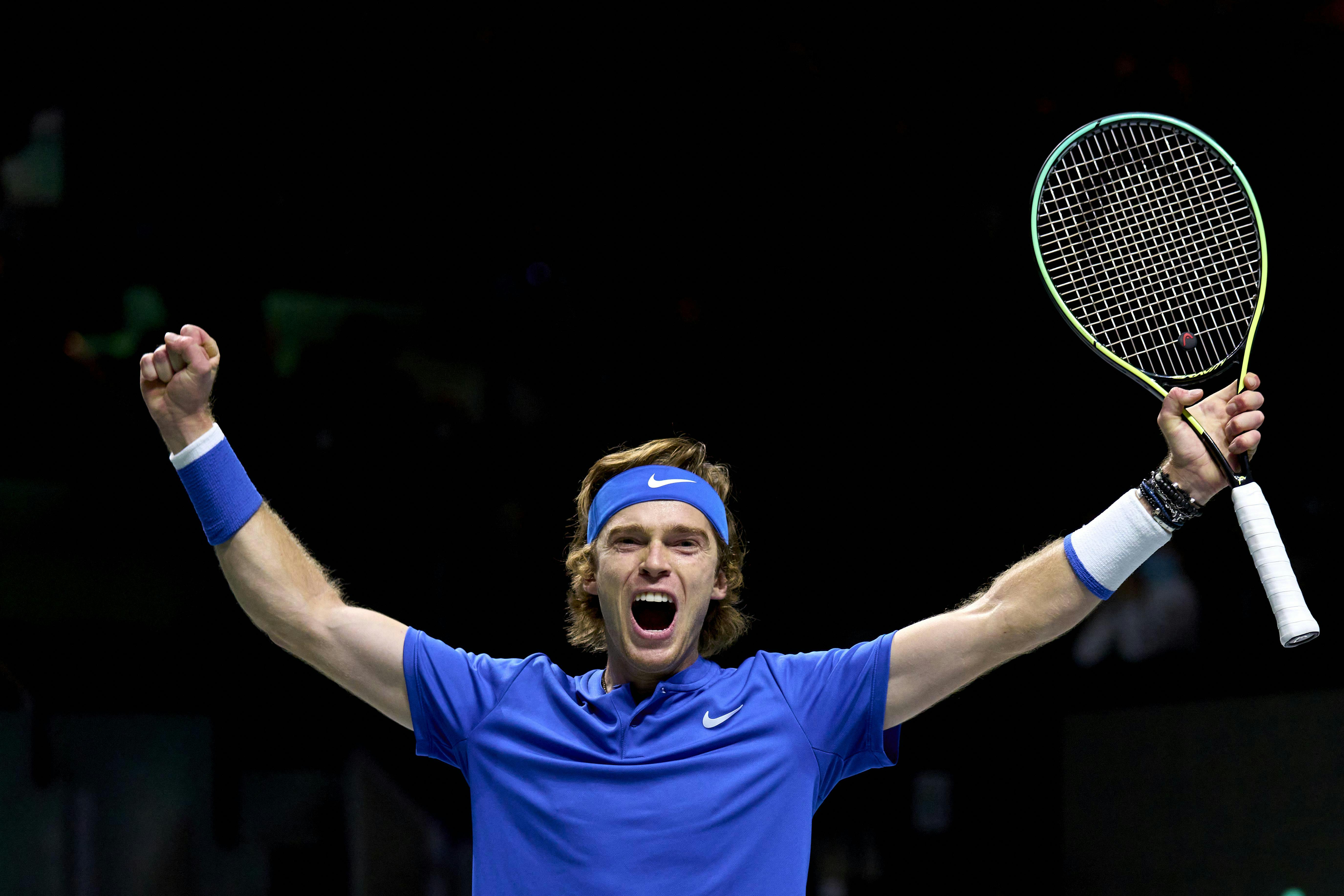 Rublev's victory meant that Cilic stepped on court knowing he had to win. That's not an easy task against the US Open champion and world No.2 but he started the match confidently, going toe-to-toe with Medvedev from the baseline and punching plenty of holes in his defences. 
The first break point of the match came in the seventh game when Cilic's forehand suddenly became wayward, but he got it back together to hold, impressively hitting through any tension he was feeling. With Cilic playing well, Medvedev couldn't afford any slip-ups, but he suddenly found himself facing break point at 3-4 30-40. A bold second serve, which Cilic netted, got him out of trouble. 
As the set headed to a tiebreak, Medvedev went up an early mini break, Cilic hit back with a forehand winner, and then gained the advantage as Medvedev hit a forehand wide. Serving with the advantage at 4-3, it was Cilic's turn to miss a forehand. The Croatian then came out on top of a long rally, defying Medvedev's spectacular defence, to move 5-4 ahead. Two strong serves from Medvedev put him 6-5 up only for an extraordinary smash from Cilic to save set point. It was an incredibly brave shot from deep in the court, particularly for a player who has developed a reputation for getting tight in pressure moments. 
These kind of competitions, we have to be together almost every day, eat together, have breakfast together, spend time together (Andrey Rublev)
But, on the next point, Cilic's Achilles heel struck as he pushed a relatively straightforward forehand just wide to hand Medvedev the chance to serve it out. Medvedev had been targeting Cilic's forehand throughout the set, to little avail, but the stroke had broken down when it mattered most. An unexpected double fault from Medvedev then brought the scores level once more. The Russian made amends to go 8-7 ahead and then took the set when Cilic was slow to get up to a backhand and pushed it wide. 
At this stage in the match, Cilic had nothing to show for hard work, like a football team who had played well but hadn't scored. Having put so much effort into the first set, Cilic's level dropped a bit in the second, and Medvedev sensed this. A series of winners helped him get the early break and from there he never looked back, pinning Cilic behind the baseline with deep groundstrokes, and choosing his moments to attack. Before you knew it, he'd worked his way to match point, and it was all over when Cilic netted a backhand. 
While the Russians' celebrations were initially quite muted, the magnitude of their achievement spoke loudly for itself. 
#DavisCupFinals #byRakuten