Aslan Karatsev and Andrey Rublev spoiled Spain's party as they came back from a set down to defeat Marcel Granollers and Feliciano Lopez 46, 62, 64 in front of a capacity crowd at the Madrid Arena on Sunday night
The victory puts Russian Tennis Federation top of Group A and secures a last eight clash against Sweden on Thursday for Shamil Tarpischev's team. Spain, meanwhile, has been eliminated and attention will turn to qualifying for the 2022 edition.
As the clock struck 00:40 in the Spanish capital, Karatsev steered a backhand winner down the line much to the delight of his partner, Rublev, who stretched out his arms to hug his teammate.
"We are really happy to be in the quarters," Rublev said after the match. "We are going to do our best to go further. Two years ago we were in the semi-finals so we'll see if we can do this result but, for sure, every player from us is giving 100 per cent so that's the most important thing."
Karatsev added: "Thank you to everyone who came to support. It was a good atmosphere."
There was little to separate the two teams in the opening set. Spain notched the only break when Lopez drilled a huge forehand return deep into the tramlines. And it was that man Lopez again who served out the set when Rublev blasted a return long.
The Russian team broke their opponents twice in the second set, which meant they served first going into the decider.
Karatsev, in particular, applied pressure on his opponent's serve with some pinpoint accuracy on the return and, despite the crowd trying to help the home side in the latter stages of the final set, the Russians upped their intensity and broke to claim the win.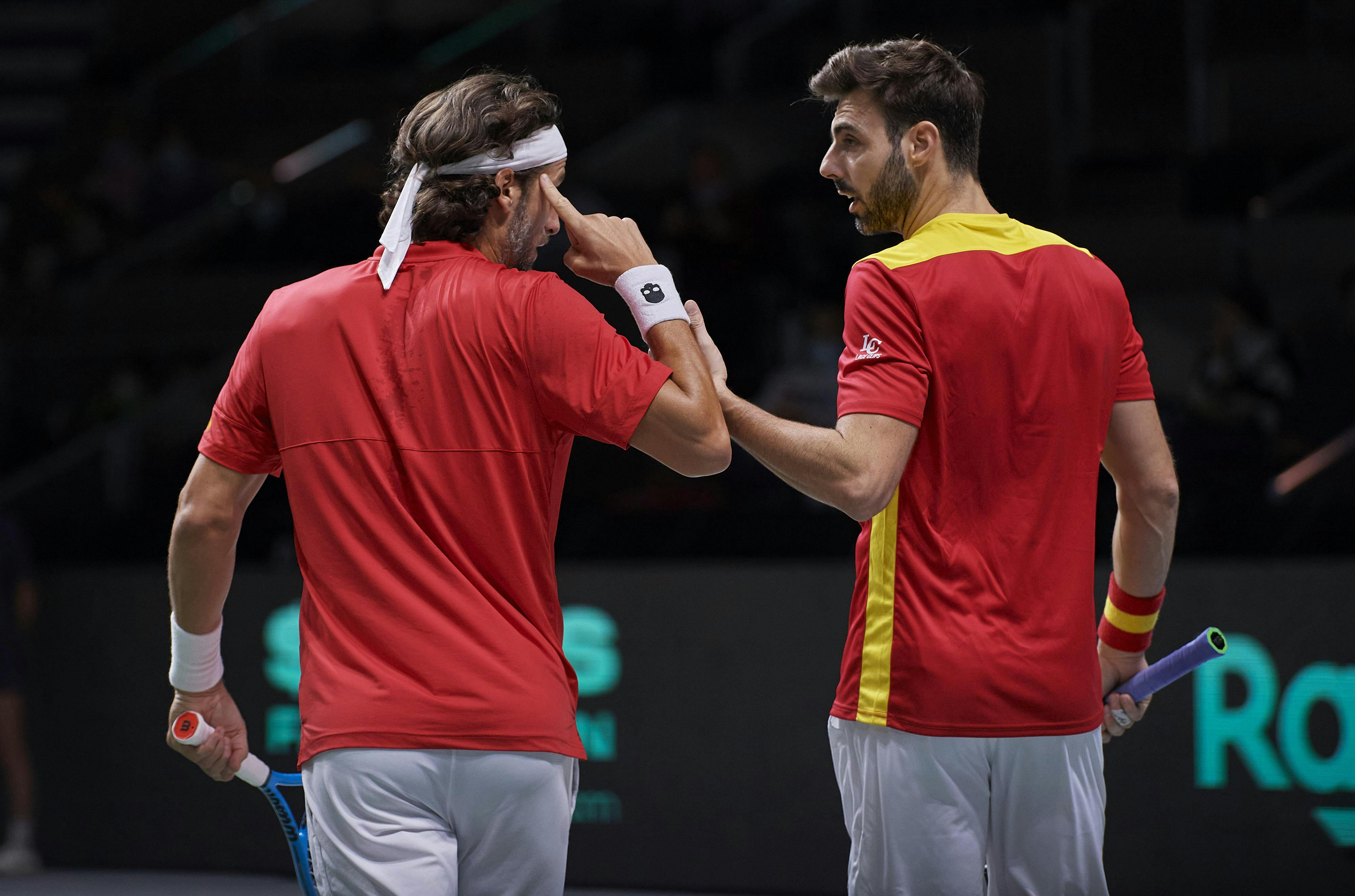 In the opening match of the tie, Lopez bounced back from a slow start to stun Rublev 26, 63, 64.
The Spaniard made a mockery of both his ranking and his age as he put on a vintage display of attacking tennis to hand Spain an unlikely advantage against one of the hot favourites for the Davis Cup by Rakuten Finals title.
Separated in ranking by 101 points and in age by 16 years, Lopez played a stereotypical game of two halves.
In the opening set, the Spaniard hit just 42% of his first serves, but some inspirational net play and his powerful lefty serve proved to be the difference in sets two and three.
"This is over any expectation to be honest," said Lopez. "For me it was already amazing to be here representing my country at 40 years old. I didn't expect to be the one playing the singles and I had to take that role. Honestly, today, playing against Andrey, No.5 in the world, at this stage of my career in my home town, this is over any expectations!"
Broken in the very first game of the match and again after a pair of double faults at 1-4, it looked as though Lopez wasn't going to trouble the world No.5 but how wrong that proved to be.  
The 40-year-old began to find his groove in the second set. It was a sensational point at 15-15 with Rublev serving at 2-3 that seemed to galvanize the Spaniard. Lopez bided his time to approach the net and put away a beautiful crosscourt volley. He went on to break the Russian and then proceeded to come through a long seventh game, with four deuces, to hold for a 5-2 lead.
Honestly, today, playing against Andrey, No.5 in the world, at this stage of my career in my home town, this is over any expectations
A huge ace out wide to clinch the second set was enough to raise the roof in the Madrid Arena and suddenly, out of nowhere, the pressure was back on the 24-year-old Russian.
And it was Lopez who seized the early initiative in the final set after a loose third game by Rublev saw the Spaniard break for a 2-1 lead.
With the crowd behind him, Lopez never looked back. He served with clinical precision to put himself within a game of the finish line. When two match points came and went on the Rublev serve and when he was forced to save a break point on his own serve, it looked like there might be one more twist in the tale of this match.
But Lopez had other ideas. He fired down an unreturnable serve out wide before soaking up the applause from a jubilant home crowd.
Rublev was honest in his appraisal of the match, giving the credit to his opponent.
"Basically, the way Feli was playing in the first set is something, like, normal," he explained. "And then the way he started to play in the second and third set, it's something that happens to him not really often.
"Every time he's playing here in Madrid, he's giving his best. He's super focused. He's controlling his emotions. He's giving his best every point. That's what he was doing today, and he was playing amazing. He deserved to win."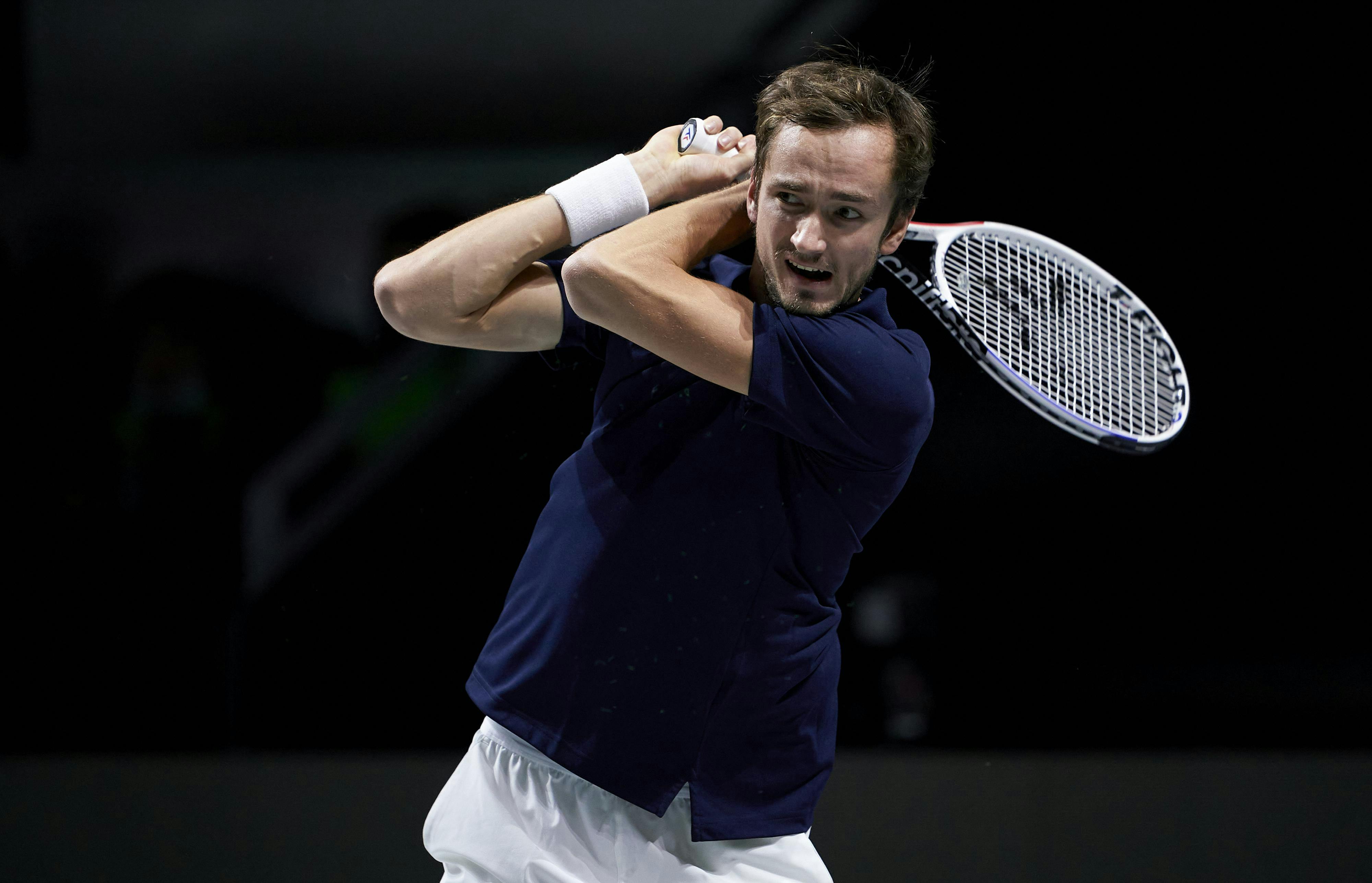 Daniil Medvedev then kept his team in contention for the win when he overcame Pablo Carreno 62, 76(3) in just under an hour-and-a-half.
The world No.2 showed why he has become one of the dominant forces in men's tennis with some scintillating shot-making, but the victory wasn't without its challenges.
Medvedev needed just 26 minutes to take the opening set and in so doing ensured that the buoyant home crowd, that had been so vocal earlier in the tie, had nothing to cheer about. Carreno started to play more aggressive tennis at the start of the second set and was rewarded for his efforts with a break and a 3-0 led.
But Medvedev came roaring back, reeling off five games in a row as he showed an effortless ability to take his tennis to the next level. Carreno refused to go down without a fight and, feeding off the crowd, he broke back after a series of gruelling rallies to force a tiebreak.
Once again, Medvedev produced some incredible shots as he raced to a 5-0 lead in the breaker before sealing the win with an ace out wide.  
"Everybody is super happy," he said. "Because that's how we all are in the team, all five players. I think, if I'm not mistaken, we needed to win just one game to be through. Yet we won a match, and that's all you need to know about us.
"We want to win, no matter if it's an exhibition match, a match that doesn't count maybe for the tie, or an important match. Our goal is to win. I think it's very important for the confidence of the team to win against such team as Spain. Even if they didn't have their best line-up, they are playing at home, and to beat them means a lot."
#DavisCupFinals #byRakuten