Kazakhstan is into the last eight of the Davis Cup after a 3-0 victory over Canada that sees them finish top of Group B in Madrid. 
Mikhail Kukushkin set the team on its way with an extraordinary and perplexing 63, 67(5), 75 victory against Brayden Schnur, setting up Alexander Bublik to finish the job with a 62, 76(6) win against Vasek Pospisil. Doubles players Andrey Golubev and Aleksandr Nedovyesov then added the finishing touches to a fine day by beating Peter Polansky and Brayden Schnur 64, 67(6), 61. 
It means Kazakhstan continues to punch above its weight in the Davis Cup having now reached the quarter-finals six times. All of those runs have come in the last ten editions of the competition, a level of consistency that not many teams can better over the same period.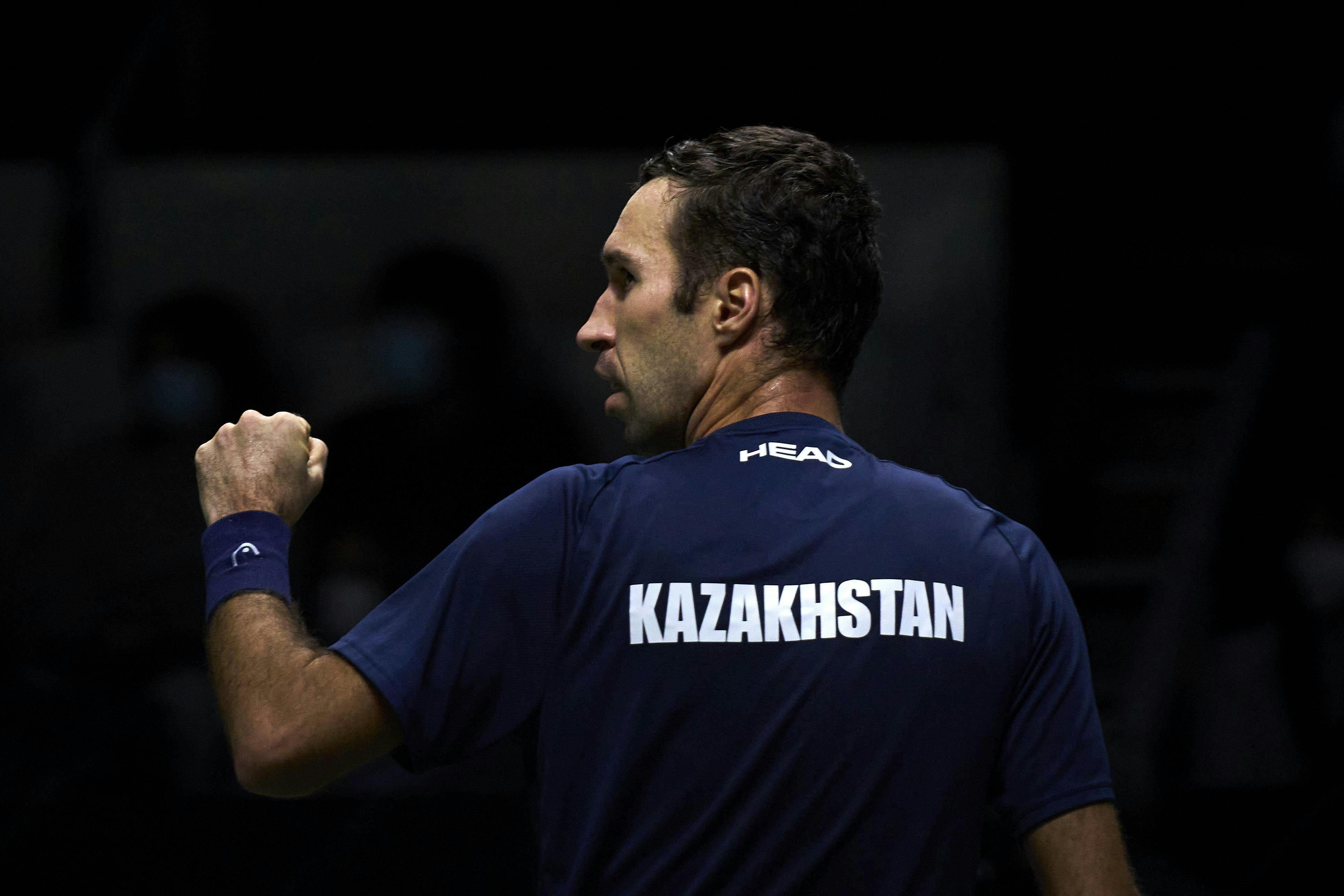 For Canada, it was always going to be a tough task without Denis Shapovalov, Felix Auger-Aliassime or Milos Raonic, and in the end the team fell some way short of the side that reached the final in 2019. Whereas Pospisil stepped up two years ago, he found it much tougher this time, particularly when Bublik began the match incredibly well, making 83% of his first serves and breaking twice in a dominant first set. 
Pospisil raised his level in the second set to make it close. But the defining moment came at 4-4 when Bublik hit an underarm serve. It didn't earn him either the point or the support of the fans, but Bublik didn't seem to care. In fact, he lapped it up, putting his hand to his ear and injecting some life into a match that was no longer being played entirely on his terms. With the match now being played in a raucous atmosphere, the set headed to a tiebreak, which proved to be a thriller. 
Bublik rushed ahead but gave the advantage away with a double fault at 4-2. From there, Pospisil strung together some nice points to give himself two chances to win the set at 6-4. After spraying a forehand wide on his first opportunity, he knuckled down on the second, only to see Bublik hit a gorgeous drop shot at the end of a long rally to steal the point. Moments later, Bublik finished the match with a second serve ace, his 18th of the match. 
Afterwards, with his on-court interview drowned out by the crowd's whistles, Bublik quoted Daniil Medvedev: "As one legend says, when you go to sleep guys, know that I won because of you." As thrilled as he was to have put Kazakhstan through, doing it in his own way seemed to make it all the sweeter, and there were no hard feelings towards those rooting against him, either. 
"I think it's all part of the big show", he said. "The same guy who boos you, 20 minutes later they ask for autographs. I have nothing against them. They're enjoying the time. For sure they enjoy to boo. I would do as well, why not? That is just part of the game. I find it funny."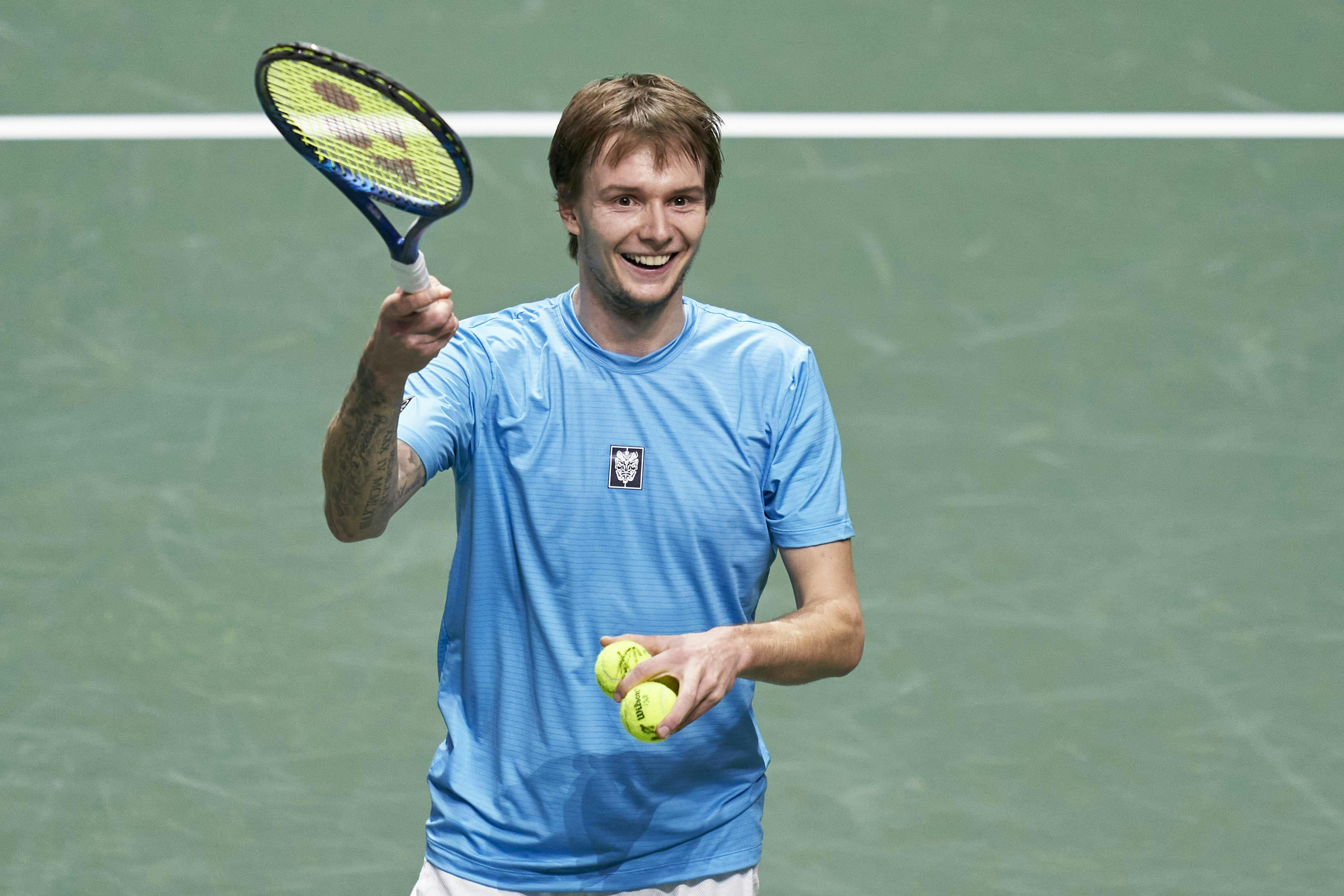 In the first match of the day, Kukushkin began with real energy and urgency against Schnur, looking determined to bounce back after his straight-sets loss to Elias Ymer (SWE) on Saturday. After every winner – and there were lots of them – he raised his fist and looked over at captain Yuriy Schukin on the bench.
After Canada was thrashed 3-0 by Sweden on Thursday, captain Frank Dancevic had brought in Schnur to replace Steven Diez in the No.2 singles position, but the Canadian had no answer to the way Kukushkin constructed the rallies with such accurate hitting throughout the first set. It flew by in just 32 minutes. 
With Kukushkin forcing Schnur to raise his game, the second set was much tighter. While the Canadian noticeably grew in belief, when Kukushkin led 6-3, 6-5, 40-15 it looked for all the world like he would finish the match off in straight sets. 
But this was a contest that turned dramatically and suddenly. After Schnur saved the second match point with a backhand return winner onto the line, and a third when Kukushkin missed a straightforward mid-court forehand, the whole feel of it changed in an instant. A look of panic came over Kukushkin, a look of resurrection over Schnur. In the tiebreak there was no stopping Schnur. He continued to come forward, displaying lovely hands at the net, and he let out the most enormous roar as it went his way. It was the first set Canada had won all week. 
As Kukushkin left the court between sets with his shoulders slumped, he looked mentally and physically drained. Indeed, when he dropped serve at the start of the decider, he appeared to be there for the taking. But a sloppy game from Schnur immediately gave Kukushkin a new lease of life. It was as though he'd been dazed and, after a few moments to come to terms with what had just happened to him, he was once again engaged in the match.
Schnur was the fresher throughout the final set, with Kukushkin staggering around the court, receiving massages on his legs at changeovers and reserving his energy for when it mattered. In a match of such fine margins, though, he made his experience count, hanging in and applying scoreboard pressure. After 2 hours and 54 minutes, Schnur finally buckled. A forehand drifted wide and Kukushkin had the win…just. 
"I feel extremely happy that I was able to bring a point today for my team", he said afterwards. "It was not a good idea to lose the second set. I was really disappointed with myself, with the way I played those match points, with the way I played the tiebreak. After that, I'm a professional player, so I just have to forget about the second set. With the support from the team, from the crowd, I believe this helps me to come back in the match. I'm happy I managed to keep fighting." 
#DavisCupFinals #byRakuten