Canada booked its place in the Final 8 of the 2022 Davis Cup by Rakuten Finals despite falling 2-1 to Serbia in Group B on Saturday night.
Felix Auger-Aliassime had assured Frank Dancevic's team of a place in the Knockout Stage with a clinical 6-3, 6-4 win against Miomir Kecmanovic in the second singles.
And with the score in the tie level at 1-1, Canada had the chance to secure top spot with a win in the doubles.
However, Vasek Pospisil, who has put his body on the line this week in Valencia, could only make it through three games before retiring with what looked to be a knee injury in the doubles, playing alongside Alexis Galarneau, thus gifting the win – and the tie – to Serbia's Kecmanovic and Filip Krajinovic.
"It was a great effort," an emotional Pospisil said in the post-match press conference. "Definitely pushed the body to the limit in both days that I played. According to preliminary tests, I will probably have to take several weeks off. It's a reality. It's unfortunate. 
"But, we qualified, so it's amazing. It's a great week for the team and for me and for everyone involved. It's an amazing memory. For myself, I just hope I can recover as quickly as possible and be ready for the Tour and be ready for Malaga."
The result means both Spain and Serbia still have a chance of finishing as Group B winner. Victory for Spain against Korea Republic on Sunday will see the host nation qualify in top spot from Valencia. 
Meanwhile, a win for Korea would mean Serbia finishes first. With both Canada and Serbia tied on two wins each, the group standings would be dictated by the result between those two teams.
It's very nice to see a smile on everybody's face, make the team happy and proud. That's what I came here to do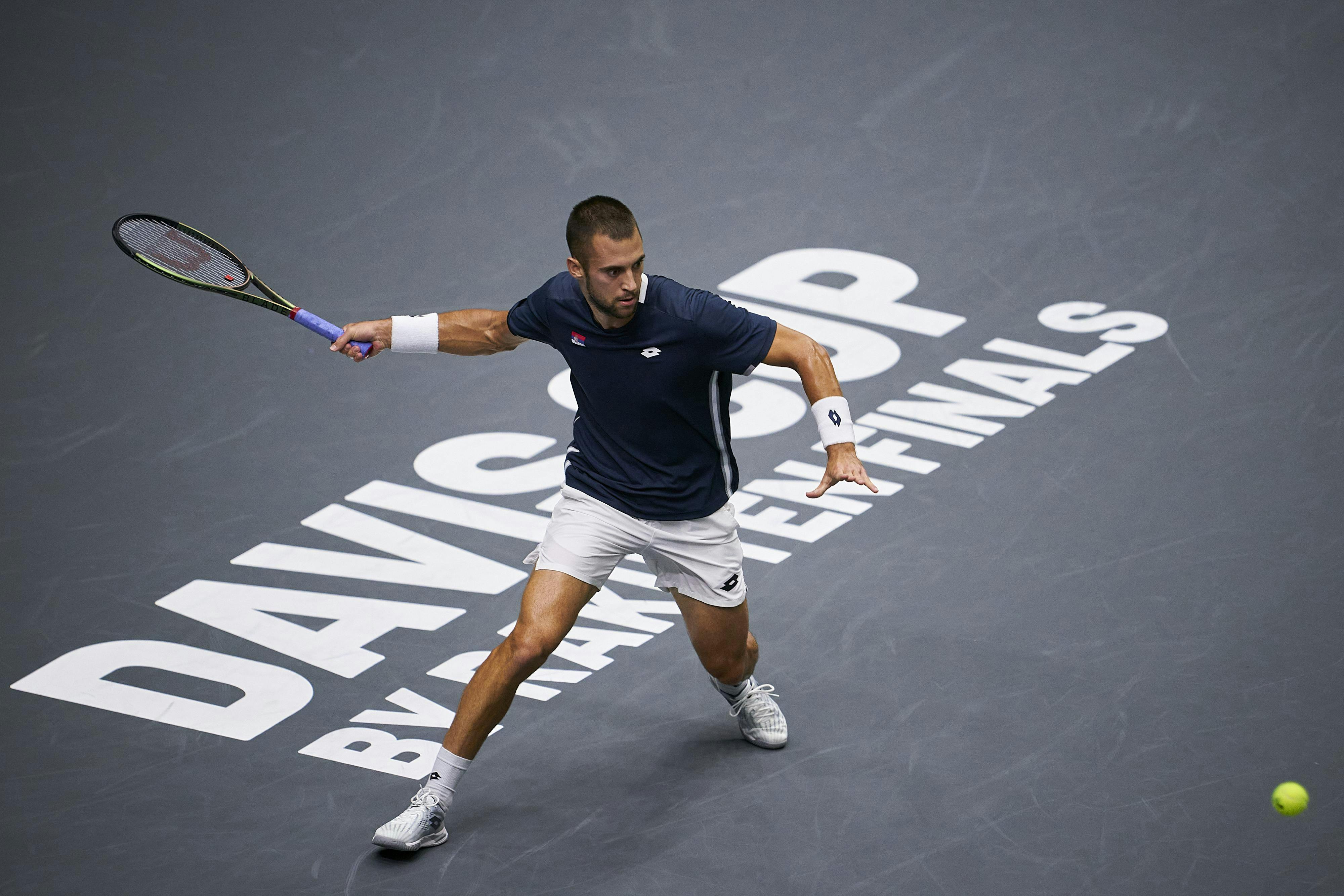 Auger-Aliassime, who notched a wonderful win against world No.1 Carlos Alcaraz on Friday night and helped Canada to win the doubles against Spain with a match that finished just before 1am, has been pivotal in helping his side reach Malaga on 22–27 November.
Despite playing well in the opening tie against Korea, Auger-Aliassime fell to Kwon Soonwoo, but since then everything he has touched at the Pabellon Fuente de San Luis has turned to gold.
"I feel this whole event my level has been really good. I played well in doubles. I'm really happy where my game is at. To come out and play this way, get the win, it's very good for me personally. I'm just really happy for the team.
"It's very nice to see a smile on everybody's face, make the team happy and proud. That's what I came here to do. I'm really happy that I came and played with the level I did to get Canada through the quarters."
In the opening match, world No.66 Serbian Laslo Djere showed the gulf in ranking with No.334 Gabriel Diallo as he raced to a 6-2, 6-2 win in just one hour and five minutes.