Teenage sensation Carlos Alcaraz ignited the home crowd at the Pabellon Fuente de San Luis with glimpses of his brilliant shotmaking as he defeated Kwon Soonwoo 6-4, 7-6(1) and more importantly clinched Spain's place in the Final 8 of the Davis Cup by Rakuten Finals.
Just four years after Alcaraz led his country to victory in the Junior Davis Cup Finals, the 19-year-old scored the crucial point that means Spain will advance to the Knockout Stage in Malaga and keep its hopes alive of winning a seventh Davis Cup title.
"This tournament, Davis Cup, is different," Alcaraz said after scoring his first win at this level of the competition. "You are playing with your team, represent your country. You don't play just for yourself. You're playing for everyone in Spain, you know?
"It's different atmosphere, different air you breathe, totally different from the other tournaments. You have to play the same, but, it's different."
The new face of Spanish tennis didn't have it all his own way. Korea's Kwon put the world No. 1 under pressure in the second set and was just a point away from going a double break up in the seventh game.
With his back against the wall, Alcaraz raised his level and with it the volume inside the arena in Valencia. The Spaniard broke back in the eighth game for 4-4 but for every outstanding winner coming off his racket, Kwon was able to match it as the second set headed for a tiebreak.
It's different atmosphere, different air you breathe, totally different from the other tournaments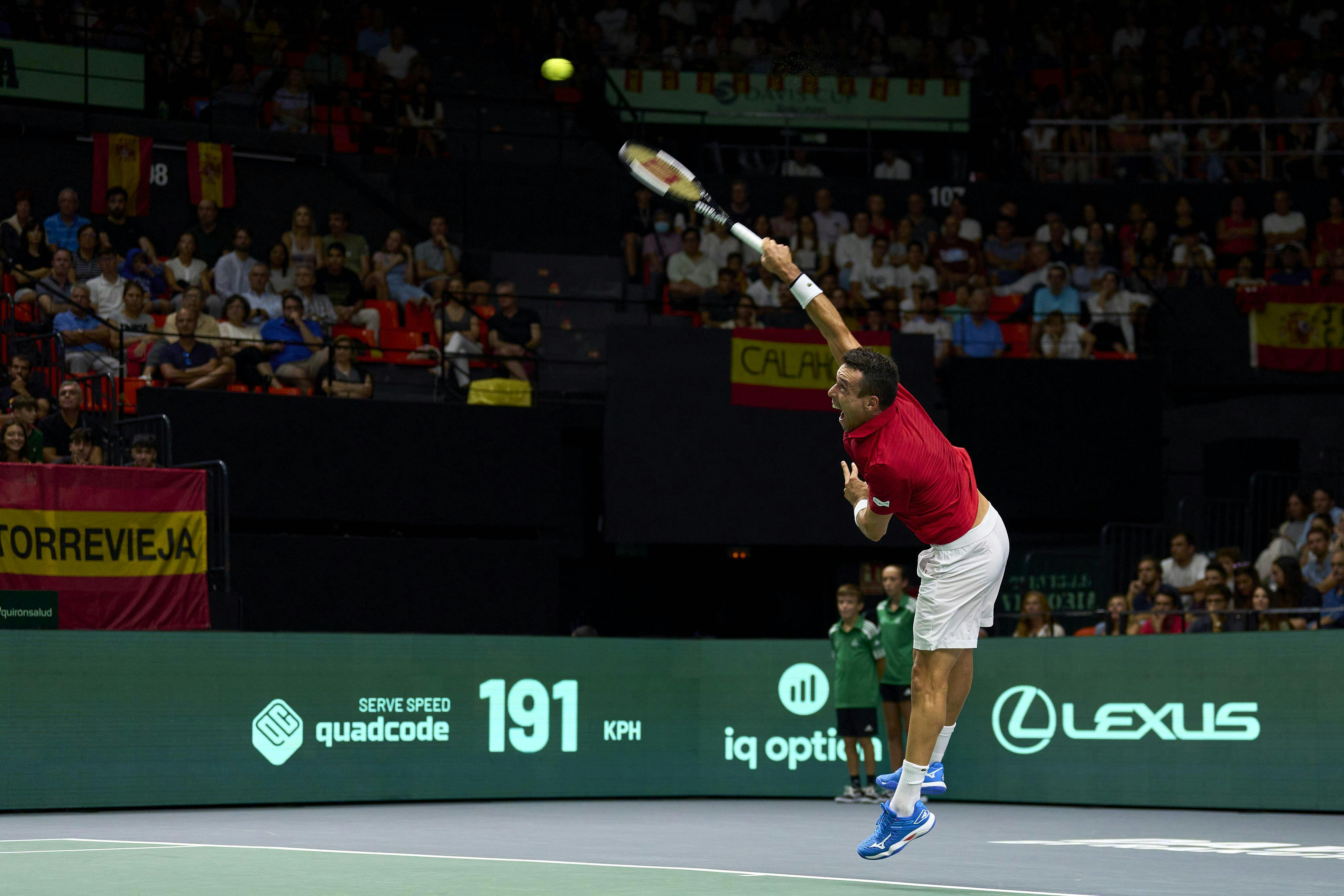 The Korean's level dipped in the breaker as more unforced errors crept into his game and the contest was over when Kwon blasted a forehand wide into the tramlines.
"Playing the Davis Cup here is an honour for me," Alcaraz said after the match. "But it's even better to come here being No. 1 in the world and US Open champion, to share this moment with all my people, my family, my friends. I'm really happy to live this moment right now and to share this moment with all of them."
In the opening match, a clinical performance from Roberto Bautista Agut saw the Spaniard secure a 6-1, 6-3 victory over Hong Seong Chan in an hour and 11 minutes to put the home side 1-0 up.
The World No. 21 was the red-hot favourite going into the match against a player ranked 446 places below him and he very much lived up to billing.
Bautista barely put a foot wrong all match to chalk up his third victory of the week – the only player to win three singles in Valencia.
The doubles went the distance, but Marcel Granollers and Pedro Martinez ensured a Spanish whitewash when they edged Nam Ji Sung and Song Min-kyu 7-5, 3-6, 6-1 in one hour 39 minutes