Battling singles victories for Marin Cilic and Borna Gojo allowed doubles world No. 1s Mate Pavic and Nikola Mektic to add the exclamation point to a 3-0 victory over Australia as Croatia marked themselves as a force to be reckoned with at the Davis Cup by Rakuten Finals 2021.
Cilic (CRO), who missed the 2019 Finals with a knee injury, underscored his status as Croatia's pre-eminent Davis Cup player with the 42nd Davis Cup match win of his career, a 61, 57, 64 victory over Alex de Minaur (AUS), but it was Gojo (CRO) who secured what could be a crucial Group D match win to open the tie, a hard-earned 76(5), 75 triumph against Alexei Popyrin (AUS).
De Minaur then returned with John Peers (AUS) to take on Pavic (CRO) and Mektic (CRO), but the Aussie duo were undone by the season's outstanding doubles partnership 63, 61, a result that puts Vedran Martic's side in a commanding position ahead of Sunday's final Group D showdown with Hungary.
There may be 215 spots between Gojo and Popyrin, the world No. 61, but their previous meeting back in January had seen the Australian save match points as he edged the last of three tiebreak sets in Melbourne, so perhaps it was little surprise to see the opening set go with serve for 12 games.
It feels amazing. We have unbelievable support here – I want to thank everyone who came here from Croatia
Popyrin, the aggressor behind his booming forehand and some savvy drop shots, had seen five break point chances come and go early in the set, and paid a heavy price in the tiebreak as five unforced errors saw Gojo's guile and consistency rewarded with the opener.
The Australian did well to recover his composure after the disappointment of the opener, denying the world No. 276 the chance to grab an early break in the second set, but with Gojo's backhand beginning to do damage and Popyrin increasingly frustrated by his opponent's solid game and giving up 27 unforced errors in all, the set looked primed for a fifth tiebreak between the duo.
And then, as Popyrin's first serve deserted him, the Croatian broke through with the one break point he saw in the match to lead 6-5, serving out for just the second top-100 win of his career.
"It feels amazing. We have unbelievable support here – I want to thank everyone who came here from Croatia," said Gojo, whose own thunderous serve was rock-solid throughout the contest. "He was probably a better player in the first set, but I knew if I could stay close I would have a chance eventually, and today it went my way."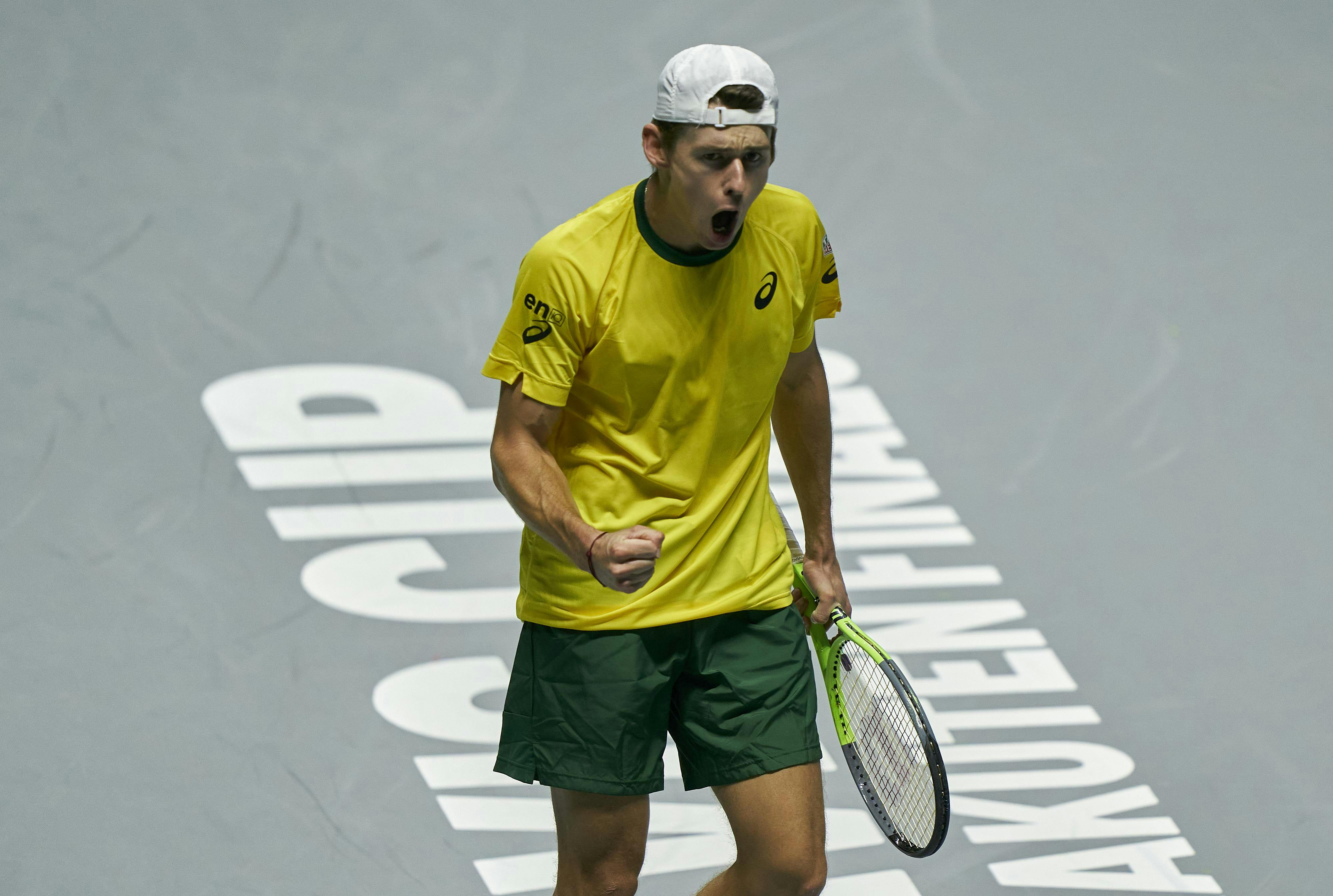 Cilic got off to a scintillating start in the second match, launching a seven-game surge from 1-1 in the opener to lead by a set and a break. The high-bouncing conditions at the Pala Alpitour in Turin seem custom-built for a player of his stature, and time and again he had de Minaur, no slouch around the court, chasing shadows for the first half-hour of the contest.
But de Minaur defines never-say-die, and with his serve firing in the second set he kept himself tighter to the baseline and ramped up the aggression, a risk-reward strategy that paid dividends as he broke back to level up at 3-3. Riding his luck through some tight service games as Cilic looked to land a second break, it was the Australian who stole the set with Cilic serving to stay in it at 6-5.
The momentum was now with de Minaur, who produced arguably the shot of the match to break for 2-0, a flat forehand off his scurrying shoelaces that skidded through the baseline past a stranded Cilic. But the Croatian hit back in the next game to get back on serve and once again wrestled back control of a pulsating encounter.
This time Cilic would not be denied, serving out the win in two hours, eight minutes to secure an unassailable 2-0 lead.
"First, it's a great pleasure to be back again on the court to play for our nation, Croatia," Cilic said. "Australia have such a great spirit on the court, always fighting so strong, and you can see that today from Alex. From that second set I was on a roll, 6-1 3-1, but it seemed really close. He's such a great fighter, and it's not the first time that he comes back in a match with this score."
#DavisCupFinals #byRakuten