Kevin Krawietz and Tim Puetz won a knife-edged doubles match against Novak Djokovic and Nikola Cacic 76(3), 36, 76(5) to give Germany a 2-1 win over Serbia in their Davis Cup by Rakuten Finals Group F tie on Saturday.
The outcome set up a fascinating three-way battle in the Group to reach the quarter-finals, with Germany now in the driving seat to go through after beating the group favourites.
The Germans face Austria on Sunday knowing that victory will see them through as the group winners. Serbia, who are assured of at least a runners-up finish, can still win the group if Austria beat Germany although they will see Saturday's defeat as a missed opportunity to seal their last-eight berth.  
The Austrians, thrashed by Serbia 3-0 in their opening tie on Friday, must beat Germany by the same score to keep alive any hopes of advancing as one of the two best runners-up from the six groups. 
We know each other really well and we also get along really well off the court, so we trust each other
The fascinating doubles contest went down to the wire as Germany clawed victory from the jaws of defeat in the third set, when they saved a break point at 4-2 down and then broke back in the eighth game to restore parity.
Games went with serve until a nerve-jangling tiebreak, the second of the match, with the Germans clinching it after Cacic smashed a baseline return into the net. 
Having lost the opening set tiebreak, Serbia stormed back in the second as Djokovic tormented his rivals with big serves but for all their baseline dominance, the Serbians were outdone at the net where superb volleying by Puetz made the difference.
"We know each other really well and we also get along really well off the court, so we trust each other," Krawietz said in a courtside interview after Germany swung the titanic tussle their way. 
Team captain Michael Kohlmann added: "It's a great performance to beat the team who have the world No.1. Before the tie, we all thought that we had a good chance. We really believed it and it paid off."  
Having heaped praise on his players, Kohlmann stressed there was no room for complacency as Germany still had work to do in order to progress to the knockout stages.
"I am very proud as it was a rollercoaster and we are now in a position to win the group," he said. "We still have to win one more match because we are out if we lose tomorrow."
"But it's very important that we have it in our hands because if we had lost today, we would have had to look at results at other places. We can be happy a little bit then we have to focus on what is going to be a very tough tie against Austria."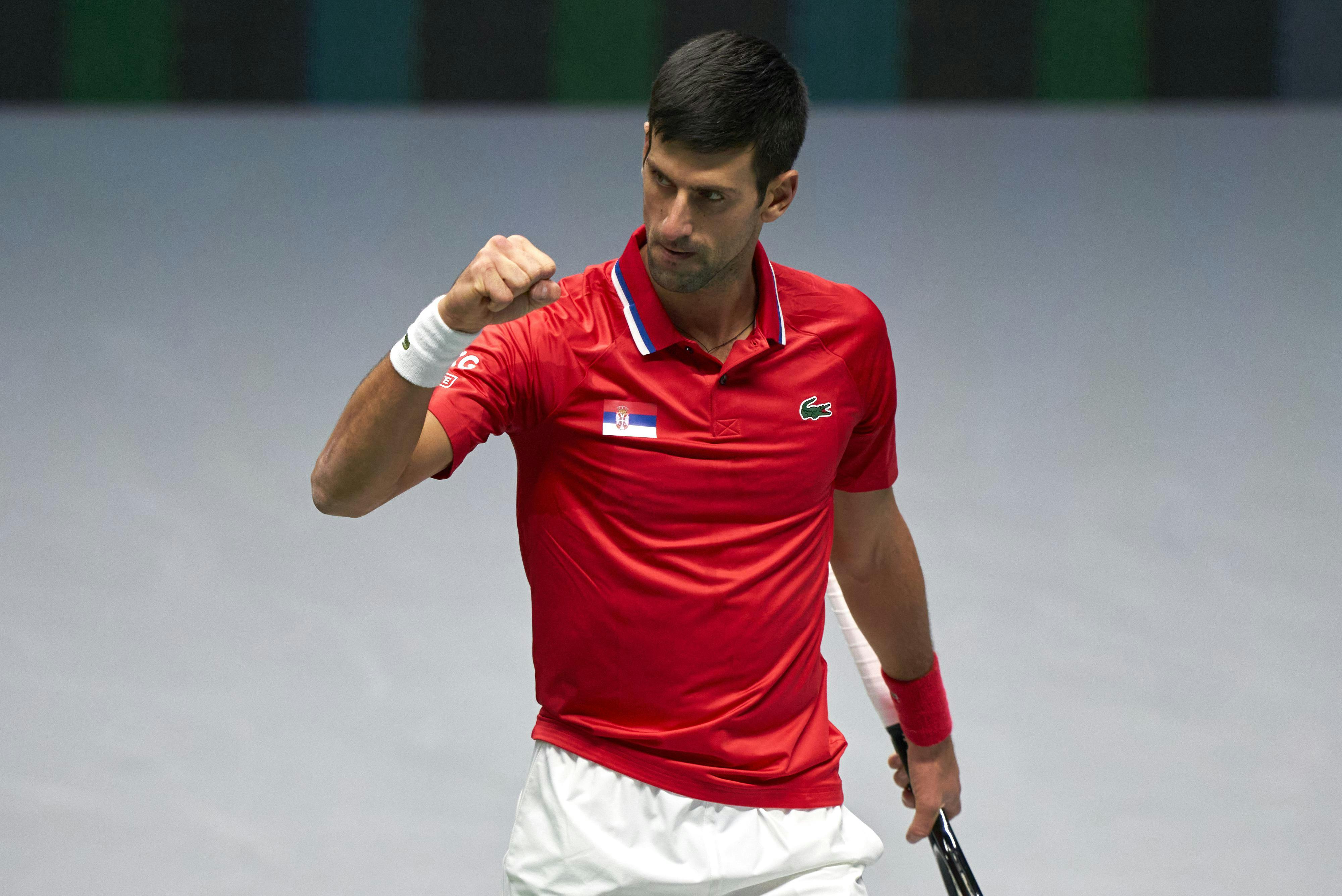 Earlier in the day, Djokovic brushed aside Jan-Lennard Struff 6-2, 6-4 to redress the balance after Dominik Koepfer had fired the Germans ahead with a 7-6(4) 6-4 win over Filip Krajinovic.
Djokovic took the first eight points of a lop-sided contest as he raced into a 2-0 lead before Struff gradually got into his stride and briefly managed to stay afloat, saving a double break point in the fifth game to reduce the deficit to 3-2 in the opening set.
However, Djokovic then moved up a gear again as he held serve before winning four points in a row to haul himself from 15-40 down to break Struff again and wrap up the set in 28 minutes, having unleashed six aces in the process.
It's been more than 15 years since I made my debut and playing for my country has been an honour and a privilege.
Having taken a 2-0 lead in the second set, Djokovic remained in cruise control as he never faced a break point. Struff tried as hard as he could to get Djokovic on the back foot, but the world's top-ranked player never looked in danger as he celebrated a milestone 50th Davis Cup match with an emphatic victory.
Speaking of his Davis Cup milestone, Djokovic said in a video message in Serbian that he wasn't even aware of it before the match with Struff.
"Honestly, I had to be reminded by my team that it was coming," he said. "It's been more than 15 years since I made my debut and playing for my country has been an honour and a privilege."
"Every generation I've been a part of has been a great group on and off the court. I've been fortunate to be a part of the team that won the 2010 Davis Cup title. I will cherish those memories for the rest of my life, as winning the Davis Cup was special because it was a massive impetus for how my individual career developed."
"It was a springboard for winning three grand slam tournaments in 2011 and then becoming the world number one. My passion to play in the Davis Cup is not just unrelenting, it's only growing as I get older."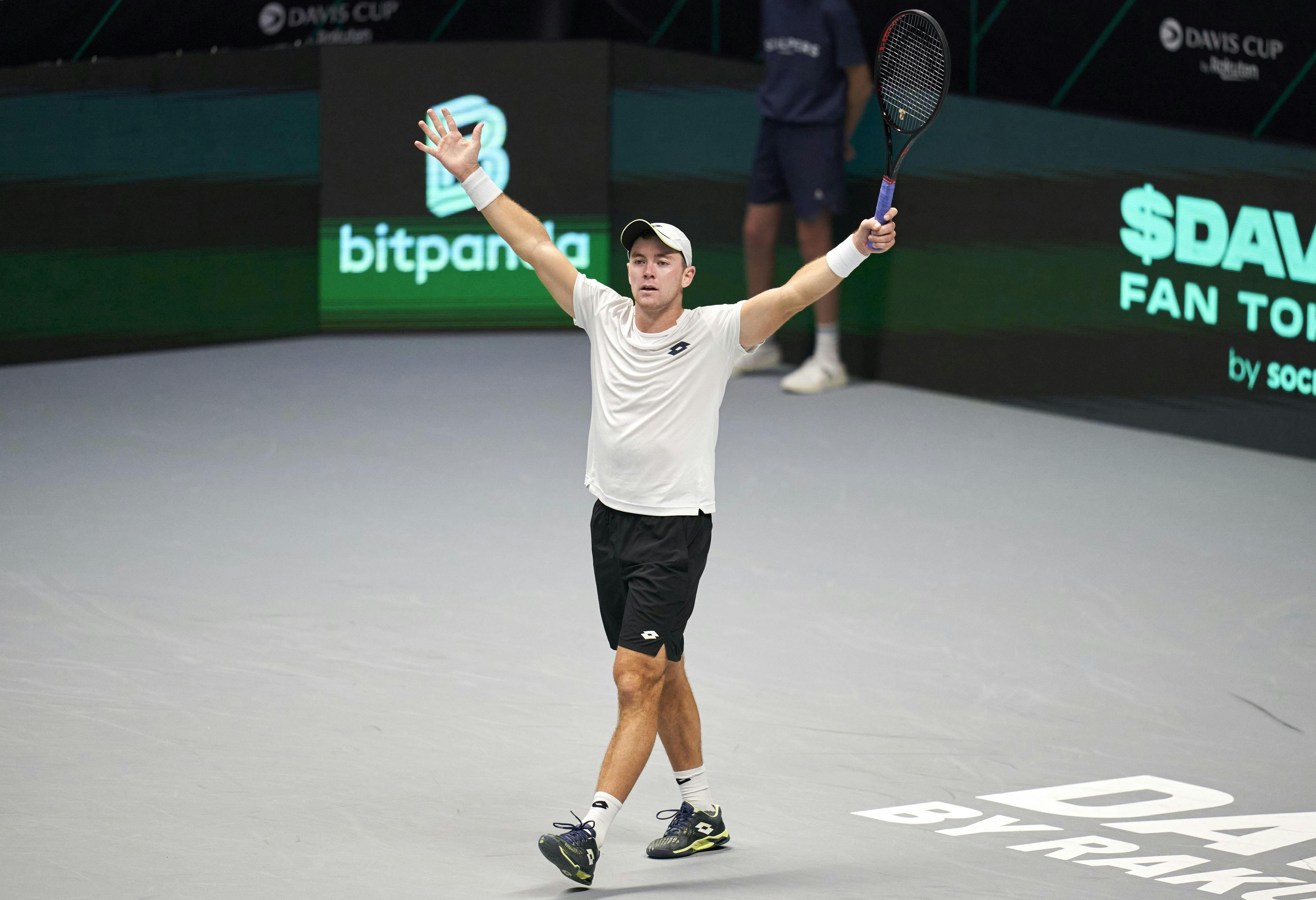 In the first match, Koepfer overpowered Krajinovic with a spirited performance, having clinched a tight opening set before he repelled a brave Krajinovic fightback in the second to wrap up the two-hour match in Innsbruck's Olympiahalle.
Serbia team captain Viktor Troicki picked Krajinovic ahead of Dusan Lajovic, who ground out a tough win over Gerald Melzer in Friday's 3-0 sweep of hosts Austria, with his decision seeming to backfire as Krajinovic found himself on the back foot for much of the contest.
The rivals traded breaks early in the opening set before Koepfer, who tormented Krajinovic with punishing backhand shots throughout the afternoon, clinched a tense tiebreak thanks to some unforced errors from his opponent.
Koepfer, who rifled in 18 winners in the opening set, grabbed a commanding 4-1 lead in the second after saving a triple break point with a pair of big serves and a searing backhand winner.
Krajinovic refused to roll over but could not turn the tide, with neither player able to hold serve in the final four games. Although Koepfer showed signs of fatigue in the closing stages, he managed to keep Krajinovic at bay and finally forced him into submission when the Serbian crashed a simple forehand into the net.
#DavisCupFinals #byRakuten