Karen Khachanov would be the No.1 player for most teams at the Davis Cup Finals, but such is the RTF's quality, he'll have to fight for his place
Two years ago, with Daniil Medvedev sidelined, it was Karen Khachanov who led the line for Russia at the 2019 Davis Cup by Rakuten Finals. He took on Rafael Nadal and Novak Djokovic in singles before winning a decisive doubles match as Russia reached the semi-finals, the nation's best performance since 2008. 
"Time goes fast", Khachanov recalls. "Two years have already passed but of course the memories are always great and they stay with you forever when you represent your country." 
But a lot can change in two years. Andrey Rublev's steady improvement and Aslan Karatsev's meteoric rise have been good news for RTF but their development means that Khachanov's clear role in the team has been muddied a little. 
Now sitting at No.29 in the world, Khachanov would be ranked first in 12 of the 18 teams competing at the 2021 Finals. Instead, he finds himself as the fourth-ranked player selected for RTF in Madrid this week. 
Even so, Khachanov knows that such strength in depth is a blessing, and he's ready to grab any opportunity he gets. 
"We are a team so, at the end of the day, whoever feels ready will play. It's a long competition from the Group Stage until the final with a lot of matches which take a lot of energy. So we will see day by day how everyone feels. I am ready to be involved."
"There are lots of strong teams - Serbia with Novak (Djokovic), Spain of course in our Group, Italy even without Matteo Berrettini, and USA. But we believe in ourselves."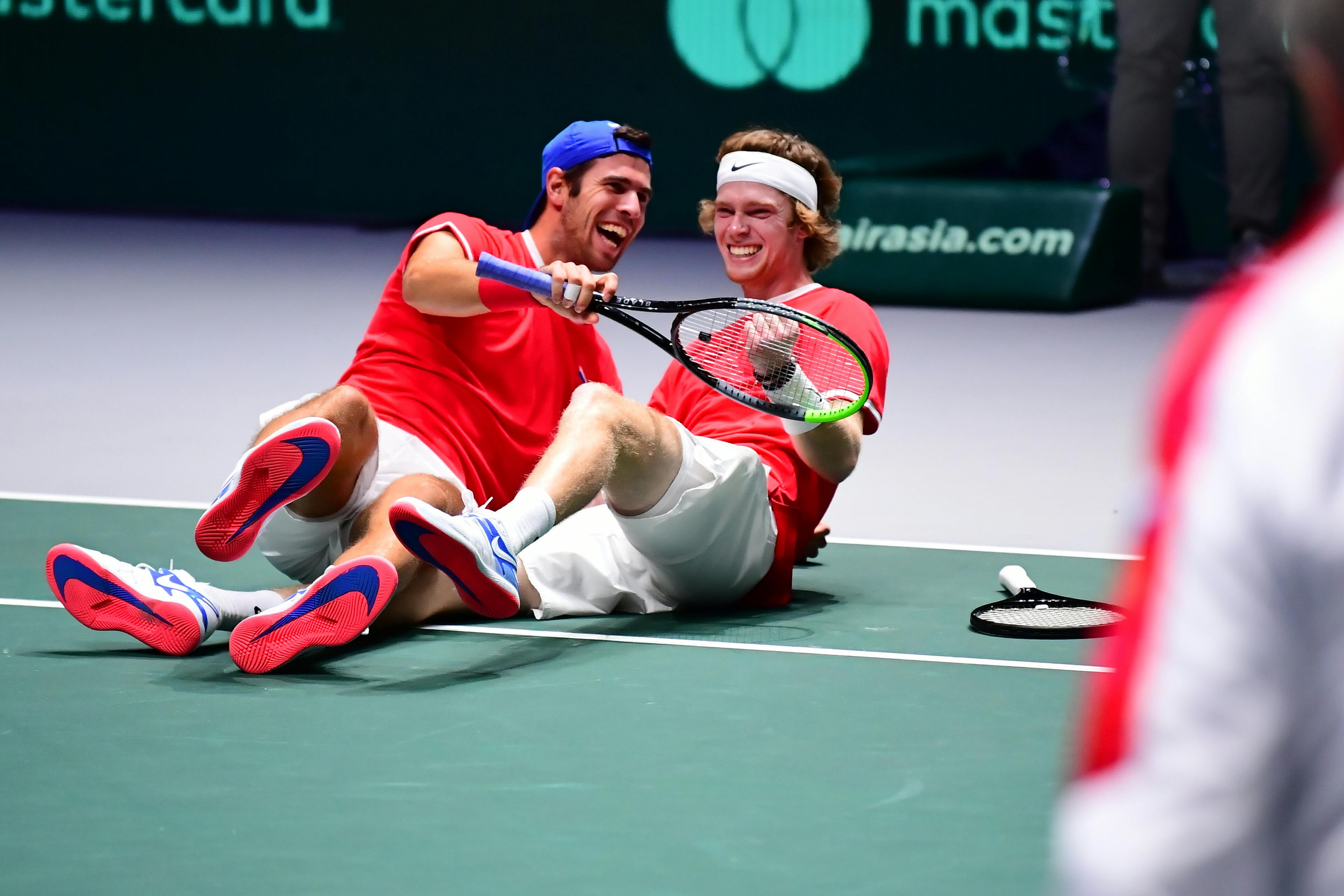 Perhaps one of the reasons why Khachanov feels comfortable in his new position is that he has a lot of shared history with his teammates. 
"I have known Daniil and Andrey from the junior times. We have been part of the same teams since a young age, we push each other, we are best friends you can say. Aslan is a bit older but we know him and Evgeny (Donskoy) is like an older brother to all of us. He's a very nice guy." 
If the Russian Tennis Federation were to be crowned world champions on December 5, it would complete a national double after the women triumphed at the Billie Jean King Cup Finals in Prague two weeks ago. The last nation to achieve that feat was Czech Republic in 2012. 
"I followed the girls very closely", says Khachanov. "They did a great job. We are very happy and proud of them and I congratulated everyone personally. Now it's our turn." 
#DavisCupFinals #byRakuten