Established among the world's top 20 tennis players for more than two years, Karen Khachanov dreams of winning the Davis Cup. The potential of the Russian team is unquestionable and in 2021 that dream could well come true. To start their campaign, they will face Spain and Ecuador in Group A.
Khachanov grew up admiring players like Marat Safin, whom he saw win the Davis Cup for Russia in 2002 and 2006, when he was just 10 years old. Since then, his imposing physique and long hours of training have made him one of the great promises of Russian tennis, which has been waiting anxiously for a new generation. In 2013, aged just 17, he made his Davis Cup debut with two singles victories over South Africa; in 2019, along with Andrey Rublev, he almost made it to the final of the competition.
"I had just made the jump to professional by participating in the St. Petersburg and Moscow tournaments and the captain called me to join the team," he recalls. "That was our first tie against South Africa and I had my first match. I think I became the youngest player in Russia to play a match and I was so tired, I was so nervous, I was so stressed at one point because... you're playing not only for yourself, you're playing for your country... but I won in three sets so, for sure, good memories. Looks like it was easy but it was not easy at all." 
At just 24 years of age, Khachanov has already represented Russia in twelve Davis Cup ties, playing a total of 21 matches.
What's different about the Davis Cup?
You always have your guys next to you, you play no point for yourself, you represent your country. I remember all the flags around... it's special for me. I always loved to be in a team, I always loved to represent my country in the Davis Cup… The Davis Cup means for me, I would say, the pride of representing your country, and courage because you're always motivated. 
And as a Russian, what does it mean to you?
For me, as a Russian, it's very important. I think I always love to play for my country and I think… the mentality is that in every World Cup, in every European championship or Olympics... you represent [Russia] and it's not like you must but people are crazy about it and they are really cheering for you. They are really patriotic, so that's why, from a young age, I always wanted to play in Davis Cup.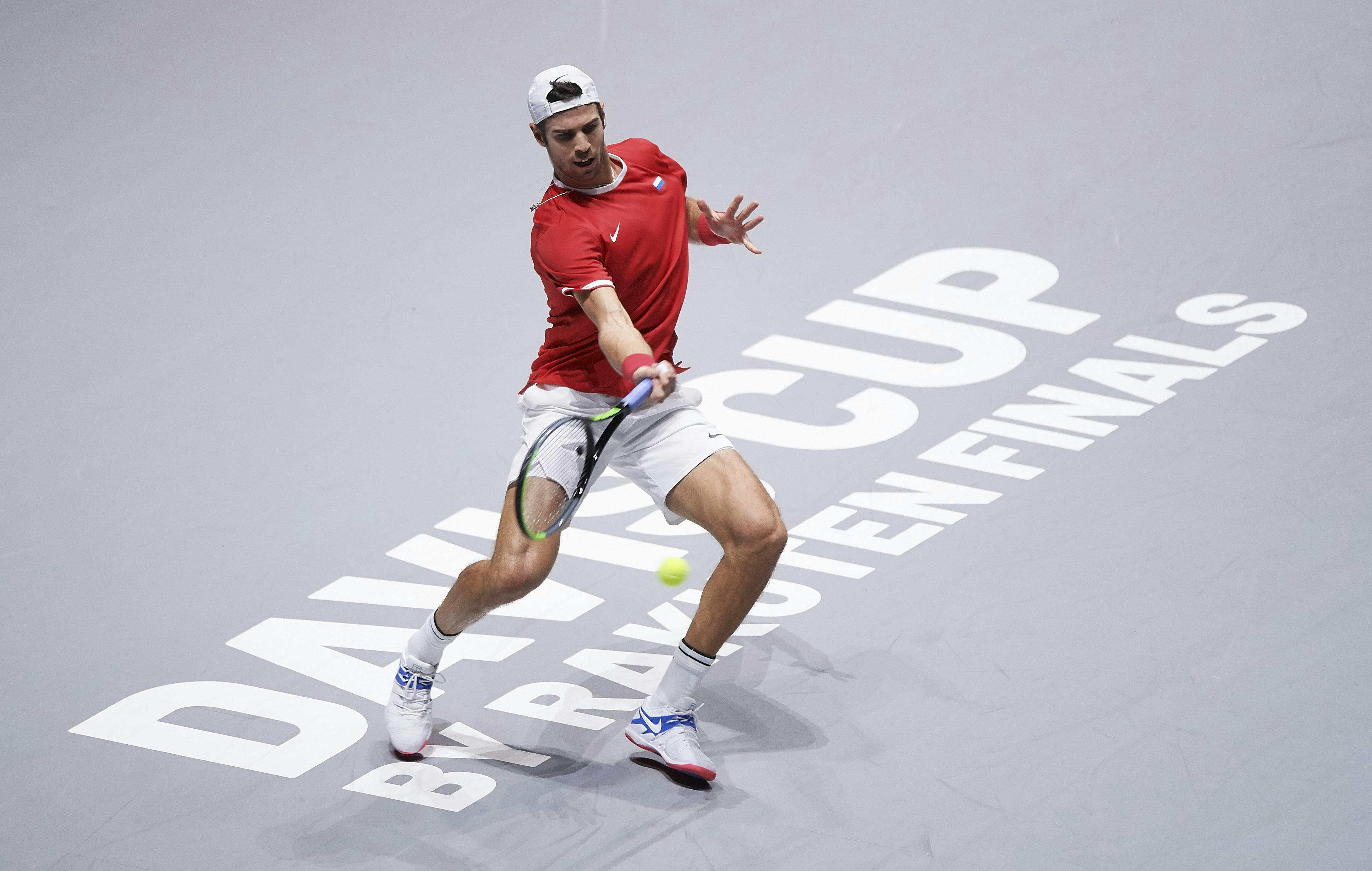 "I try to play aggressive, that's the game style that I would see watching Marat and Juan Martin del Potro and... I think... with my size I have to do it."
Together with Daniil Medvedev and Andrey Rublev, the potential of the Russian team is immense. How are you and how are they?
[I'm a] tall, funny guy… I try to serve big, try to play aggressive, that's the game style that I would see watching Marat and Juan Martin del Potro and... I think… with my size I have to do it. That's the way I love to play, that's the way I feel comfortable, and that's the way I believe in too. 
[Andrey and I] have known each other from say eight, nine or 10 years old, I think. At one point we were practising in the same club in Moscow... and then I was the first one who had an international foreign coach and I left Russia and went to practise abroad and after that we met again in one academy in Barcelona, 4Slam Tennis… We're one of the best friends, we've played so many matches, in practice, in tournaments from a young age until professional.  
And Danniil… in 2019 we had planned for the three of us to be in Madrid for the Davis Cup, but his season had been very demanding and in the end, a day before, after losing to Rafa Nadal in London, he told us that he felt exhausted, that in the circumstances he could not help us. We supported him, we understood and simply said that it was ok, there would be next time.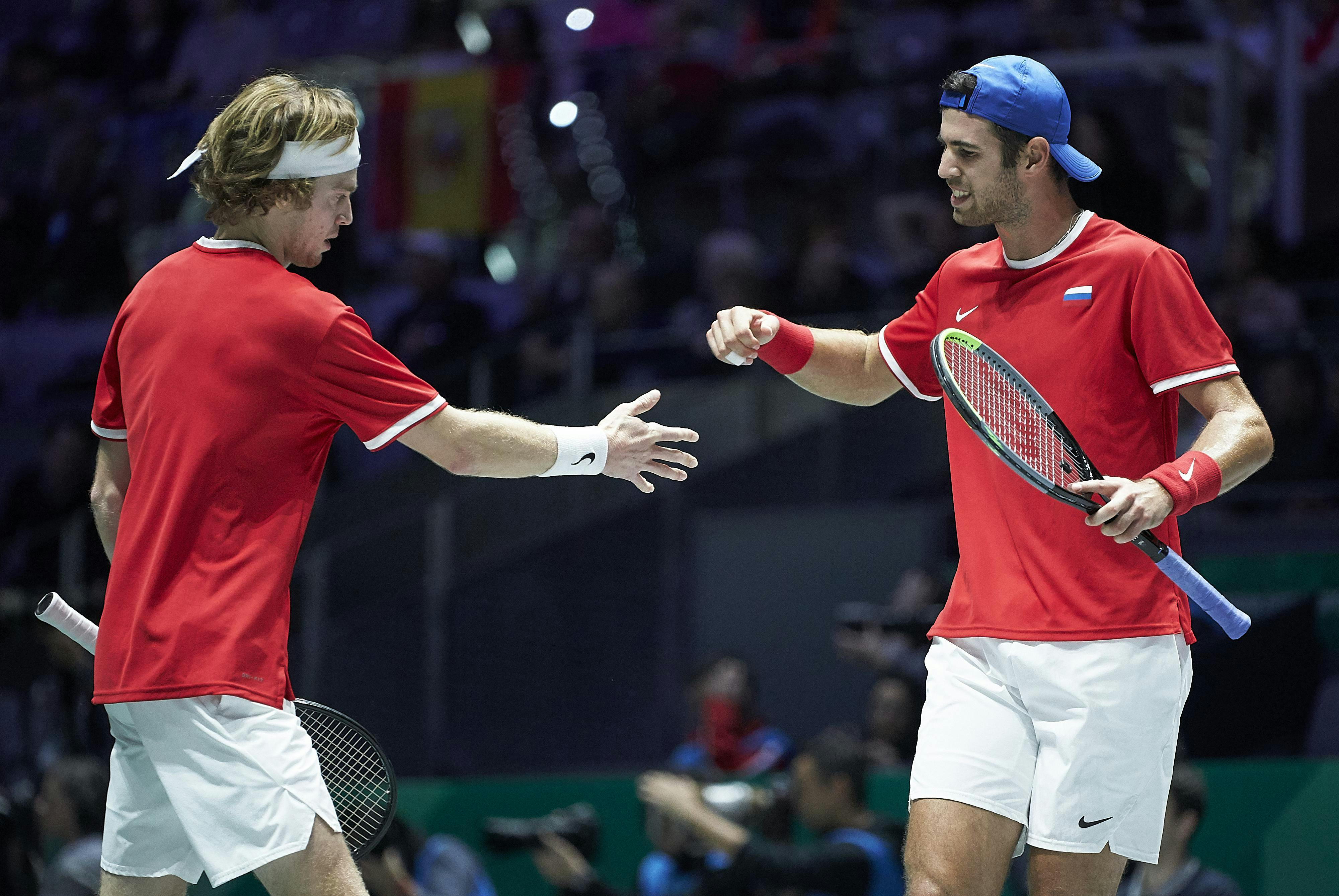 "[Spain] had a really, really strong team. You know... when Rafa confirmed that he will play I think it gave extra confidence, extra motivation for the… Spanish teammates."
There were great moments for the Russian team in the 2019 Davis Cup Finals but above all, the moment that all the fans remember was the tie-break where you knocked out  Serbia in the doubles to go through to the semi-finals. You had Djokovic on the other side of the court and Serbia let three match points slip. How do you remember that?
I don't know how we won, but this kind of match, it's always one point, one point difference… First of all we were playing good tennis..., second, [there were] good players on the court, like Novak, number one, playing for his country. It was interesting to watch and on top of that the end of the match when you're facing match point down and match point up and this, I think, for the people, for the crowd, it's really exciting to watch. 
And in the 2021 Davis Cup Finals, in the group stage you'll once again have to face Spain....
They had a really, really strong team. Of course, when Rafa confirmed that he will play I think it gave extra confidence, extra motivation for the … Spanish teammates. 
As for Roberto, we were impressed. How he could handle… the stress then, the disappointment, the sadness, and all those thoughts for sure coming around his head. But, yeah, he could deal with it, he could control it, he could handle it. That's why it's big respect.
Feliciano is still young in his heart and his mind so that's why he …  continues playing tennis. He's a special guy. So funny sometimes and yeah, I think he's super fit, unbelievable physical condition. I hope I will have the same look at the age of 40, the same shape, the muscles. And tennis is so physical right now, you need to be in good shape and I think he's doing this amazing job – maybe naturally, maybe for sure from work… and that's why he can still compete at this level, and why stop if you're still motivated?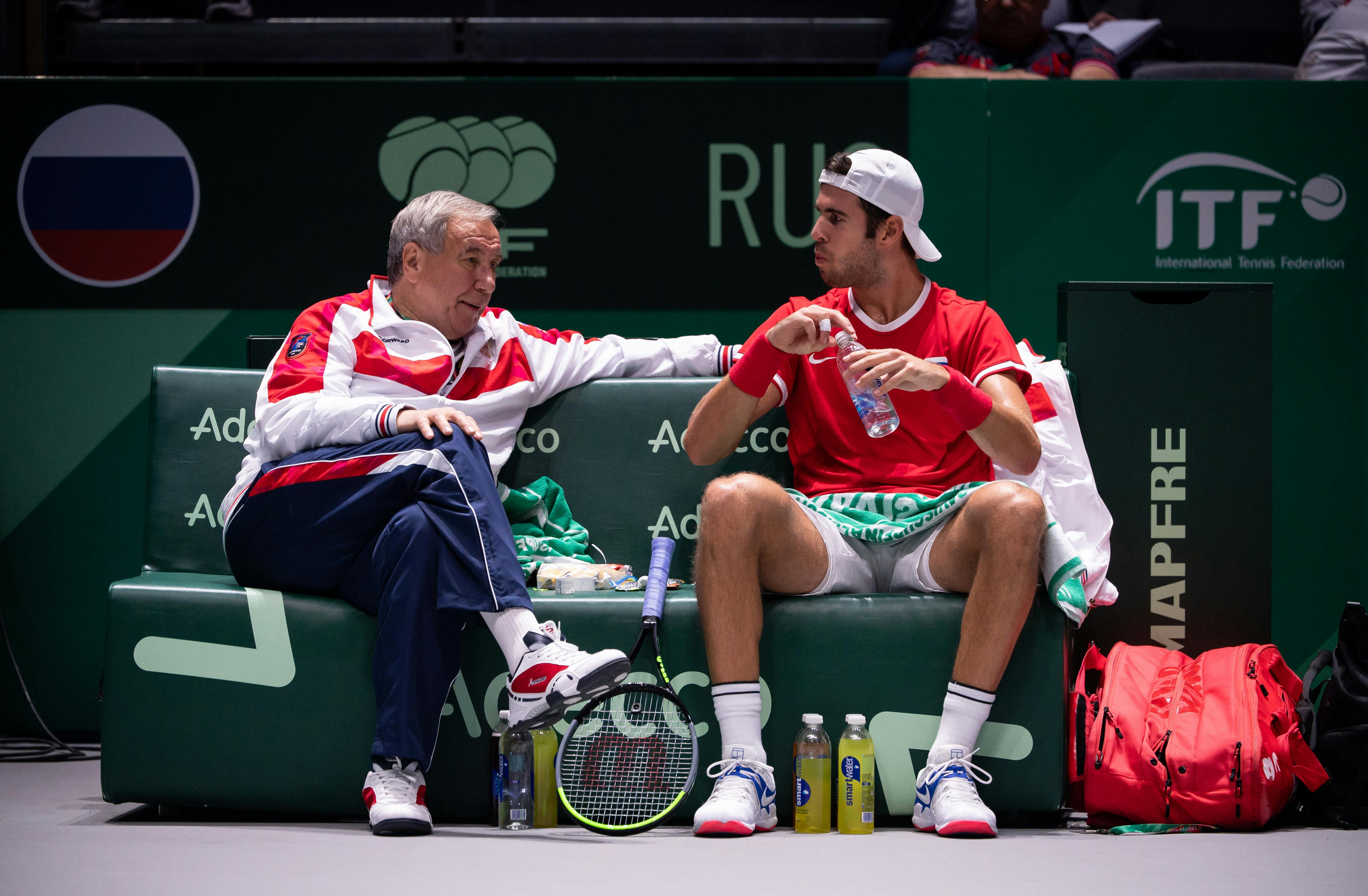 Don't miss out! Learn more about Karen Khachanov and the Russian team in the documentary Break Point: A Davis Cup Story. Access it here
#DavisCupFinals