A healthy dose of FOMO drove Andy Murray back to Glasgow for the Davis Cup by Rakuten Finals.
The three-time Grand Slam champion, and fulcrum of Great Britain's 2015 Davis Cup triumph, admitted ahead of the team's first Group D tie against USA that watching the action from afar in 2021 left him feeling he had made a mistake by not joining them in Innsbruck and Madrid.
A year on, and feeling fitter than he has for some time, there will be no FOMO – fear of missing out – whatever his role this week.
"I regretted not being involved last year," said Murray, whose sole Davis Cup appearance since 2016 came at the 2019 Finals. "At the end of last year I was tired and I wasn't sure if it was something that I necessarily wanted to still be involved with, because all of these guys deserve to play and compete in the team, and [I questioned] whether it was necessary for me to be there.
"But as soon as I turned the matches on to start watching, I was like, what am I doing, this is a mistake. I wanted to be there, to be there for the team and try and help. I spoke to Leon about that, and [said] if I was in a position to be selected, I wanted to be part of the team again.
"Physically, I feel really good just now. This is the best I've felt in a long time. I want it to remain that way for as long as possible so I can keep progressing, keep moving forwards, because my game's getting better all the time as well."
I wanted to be there for the team and try and help. I spoke to Leon about that... If I was in a position to be selected, I wanted to be part of the team again
That his return to the fold should coincide with Great Britain's return to Glasgow, the scene of so many special Davis Cup moments in the not-so-distant past, is an added bonus. Both Murray and Dan Evans, veterans of the 2015 and 2016 squads that played spellbinding ties at the Emirates Arena, have nothing but good things to say about this week's host venue.
"The one I remember was Jamie and Andy beating [Australia's Sam] Groth and [Lleyton] Hewitt," said Evans, who will be vying with Murray for the No.2 spot in the side behind world No.8 Cameron Norrie.
"In the old format, you always got a better atmosphere on the Saturday, when it was just one match and it was something I remember pretty fondly, it was an amazing, amazing atmosphere."
Special memories
Murray agrees with Evans on the special 2015 semi-final ambience. "There's that one, and James Ward's match with John Isner [from the 2015 first round clash with USA] was an unbelievable match.
"My match against [Argentina's Juan Martin] del Potro that I lost in five sets [in 2016] was also an unbelievable atmosphere. It was a good match to watch, if a tough one to lose. But there's been a lot, and we've been lucky to play that many matches in such a good atmosphere against top players. To have those experiences, it's not something that you get every week on the Tour."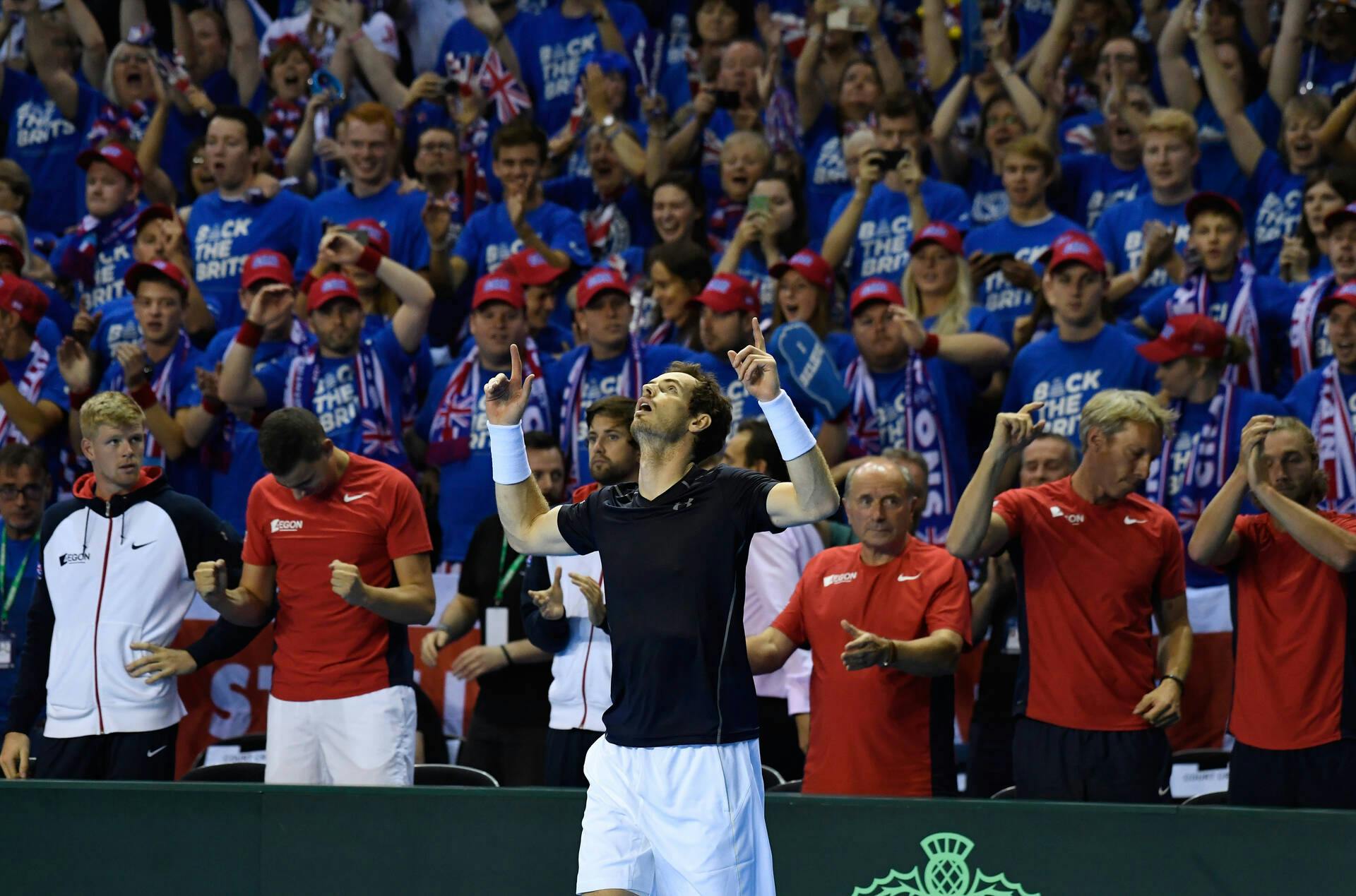 The recent death of Queen Elizabeth II will temper much of the traditionally high spirits in Glasgow this week. All four teams took part in an on-court tribute before Kazakhstan and Netherlands faced off in the Group D opener on Tuesday.
"It's been obviously a very difficult week for our nation," captain Leon Smith said. "It's been very sad and a very poignant moment for all of us. But I think it's an occasion that we can put on something special here.
"I think a lot of fans would like to come together at this time, and I think it will be done very respectfully. And it will be a positive tribute, both as an event but also as representing Great Britain – it's an opportunity for us to go in and do something for our nation again."
Welcome doubles trouble
For his part, Smith is relishing the selection headaches he faces this week, and is keen for this to be established as the norm for Great Britain. It is a measure of the strength in depth at his disposal that Murray, the current world No.43, is the lowest-ranked player in the side, and even with doubles world No.1 Joe Salisbury and No.3 Neal Skupski – fresh from facing off in the US Open final – available, the team have been testing player combinations for what could be some crucial doubles clashes this week.
"We've got a tough start tomorrow, so we're not looking past that," Smith added, thoughts fixed on the opening tie against USA. "It is a great bunch of players but also great bunch of people. And there's others that could have been here as well. I'm not jumping rooftops, saying this is really good that we have it like this, because it probably should have been strong like this for a long time. But now it's there, it's something to build on."
#DavisCupFinals
#byRakuten