The draw for the Qualifiers of the Davis Cup by Rakuten 2023 has been announced in Malaga. Australia and Canada receive direct qualification as 2022 finalists, and Italy and Spain have been awarded wild cards for 2023.
The Palacio de Deportes Martín Carpena hosted the draw for the 2023 Qualifiers, which will be played over three days on either February 3–4 or the weekend of February 4–5.
David Ferrer, Davis Cup by Rakuten Finals tournament director, and Australian Mark Woodforde, chairman of the Davis Cup Committee of the International Tennis Federation (ITF) were present for the draw.
The biggest clash of the next Qualifiers might be No.6 seed Serbia who travel to Norway. This could see a 'top 10' duel between team No.1 players Casper Ruud and Novak Djokovic on the weekend after the first Grand Slam of the season, the Australian Open.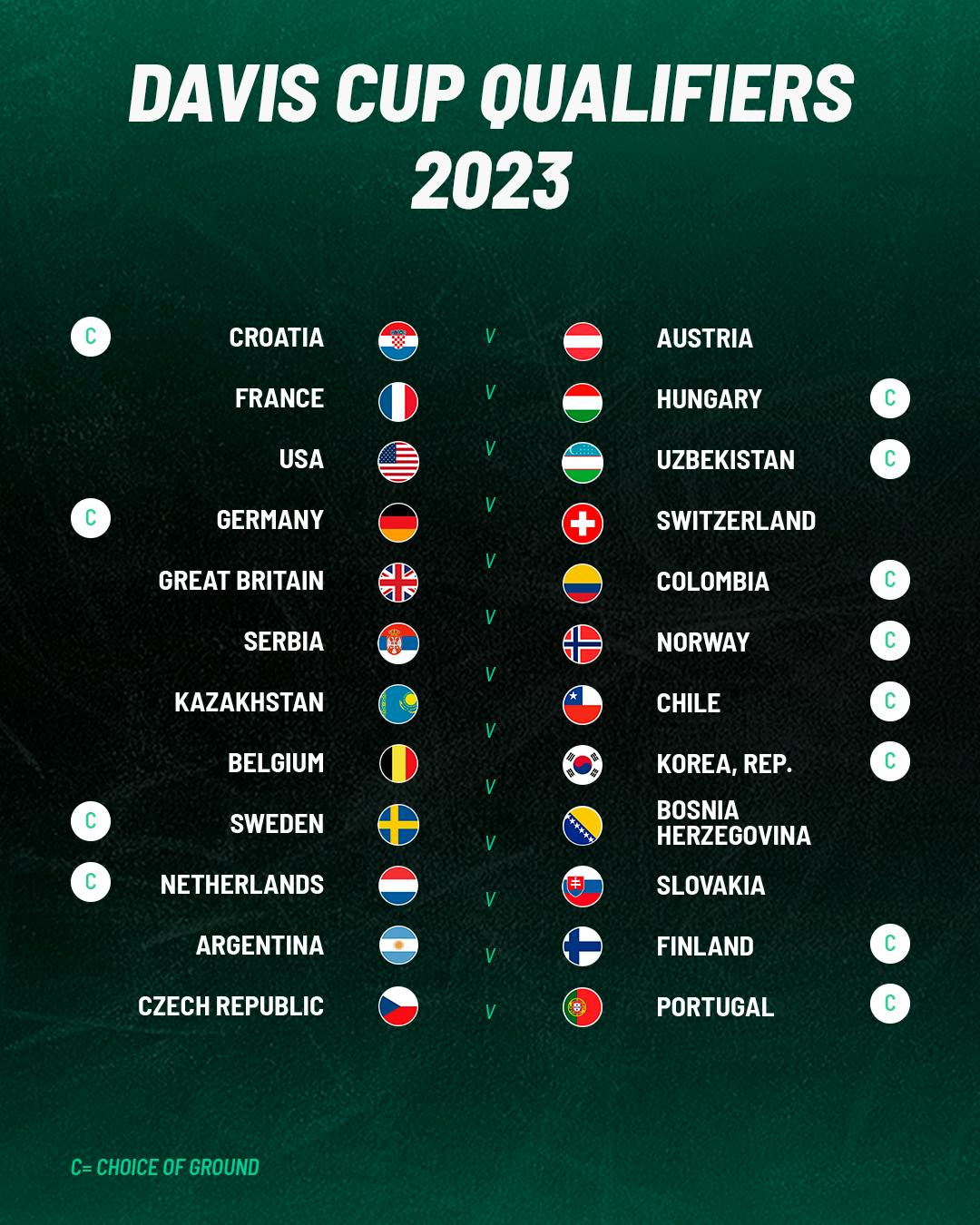 Two South American nations will play at home: Colombia will host Great Britain and Chile will welcome Kazakhstan.
Argentina, however, will travel to Finland to fight for their place in the Finals. It promises to be an exciting clash with a Finnish team that could include world No.40 Emil Ruusuvuori and world No.11 doubles player, Harri Heliovaara, semi-finalist at the last ATP Finals.
Qualifiers 2023:
Croatia (1) * – Austria
France (2) – Hungary *
United States (3) – Uzbekistan *
Germany (4) * – Switzerland
Great Britain (5) – Colombia *
Serbia (6) – Norway *
Kazakhstan (7) – Chile *
Belgium (8) – Korea, Rep. *
Sweden (9) * – Bosnia and Herzegovina
Netherlands (10) * – Slovakia
Argentina (11) – Finland *
Czech Republic (12) – Portugal *
(Seed)
* Choice of ground
Qualifiers will be played under a home-and-away format with five points at stake: two singles on the first day and the doubles and two more singles on the second day.
Watch the Qualifiers 2023 draw in full:
#DavisCupFinals
#byRakuten