Serbia is into the semi-finals of the Davis Cup for the fifth time after a stirring comeback victory over Kazakhstan. Mikhail Kukushkin set the wheels in motion for the Kazakhs to spring an enormous surprise by overcoming Miomir Kecmanovic 76(5), 46, 76(11) in an extraordinary match lasting 3 hours and 18 minutes, the longest and most dramatic of the Finals so far. But then Novak Djokovic took over for Serbia. 
The world No.1 easily beat Alexander Bublik 63, 64 to level the tie and then returned to win the decisive doubles match 62, 26, 63 alongside Nikola Cacic against Andrey Golubev and Aleksandr Nedovyesov. Serbia will now play arch rivals Croatia in the semi-finals on Friday.
For Djokovic, it was an emotional night, and he reflected afterwards about why winning a tie like this for Serbia remains a huge thrill. "I think I'm proudest of our fighting spirit", he said. "I'm proud of this team and I think we deserve to be in the semi-finals. Team competitions, particularly Davis Cup that is the most historic team competition that we have in our sport, provoke the most beautiful emotions in me. I'm very motivated to play for Serbia."
Captain Viktor Troicki hailed Djokovic as the "saviour and hero of our team" and praised him for his efforts.
"I'm really grateful to have him also as a fan and also as a player on the team. He did so much for our tennis, not just in Davis Cup but our whole nation. He's giving everything for the team. Playing all the time, winning all the time, it's a huge pressure."
He did so much for our tennis, not just in Davis Cup but our whole nation (Viktor Troicki)
The day began with Viktor Troicki throwing a surprise with his team selection. After mixing up his side throughout their Group F matches in Innsbruck, with Dusan Lajovic nominated in the No.2 singles position against Austria before being replaced by Filip Krajinovic against Germany, the Serbian captain brought in Kecmanovic for his Davis Cup debut. It turned out to be a heart-breaking first experience. 
One of the defining features of the first match was just how determined Kukushkin looked, feeding off the fervent Kazakh support and making his presence felt by repeatedly raising his fist in celebration. While he has been an obscure figure throughout much of the 2021 season, winning only three matches on Tour prior to this week, the Davis Cup has brought out a different side to him, rekindling the fire that has made him so successful in this event over the years.
"It's been, for sure, my worst season in my life," Kukushkin admitted. "To be honest, I don't know what happened. It started with a tough lockdown in Australia and it was not easy to recover after that. But I was still motivated for the next season, I was motivated for Davis Cup. I know my team was really, really worried about me, that I play really badly. They didn't tell me. But I know there was a lot of worries in the team if I was able to play on a good level. I'm really happy and proud of myself that I did really good preparation for this Davis Cup and I was working a lot, focused, and in the end… this kind of match."
Tennis' sweet spot is when both players are producing their best at the same time, which is exactly what happened with Kukushkin serving to stay in the second set having won the first. For every spectacular moment from one player, the other had an answer. Four times Kecmanovic worked his way to set point and four times Kukushkin denied him, nervelessly firing winners on all of those opportunities. But Kecmanovic's perseverance paid off. On the 22nd point of an extraordinary game, Kukushkin's backhand broke down and the match was tied at one set all.
Just as he did after dropping the second set against Brayden Schnur (CAN), Kukushkin left the court to regroup, and once again he immediately fell a break behind. He seemed to be fading physically while Kecmanovic went from strength to strength, the Serb racing out to a 3-0 lead.
Kukushkin did well to avoid going a double break down, and then held break point of his own, but Kecmanovic was undeterred. Serving at 5-3, Kecmanovic held two match points, only for Kukushkin to be suddenly awakened and start unleashing on forehands once more. While Kecmanovic's instinct was to play it safe, Kukushkin never backed down, and he was rewarded for his risk taking by breaking back.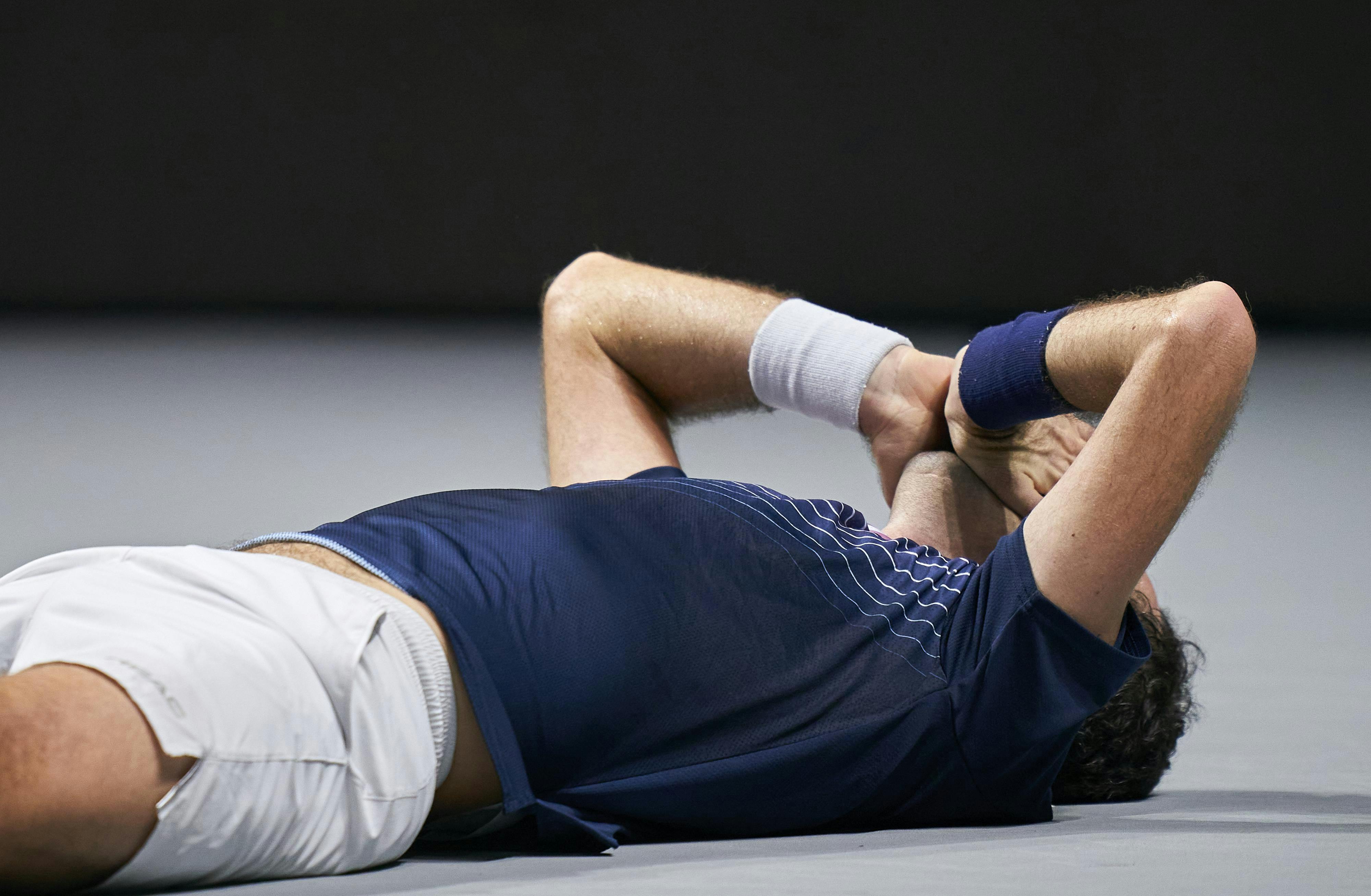 It was an unexpected twist but it meant that as the match headed to a final set tiebreak, Kukushkin was the one with the momentum. Not for the first time, though, trying to predict which way it would go proved futile. Kecmanovic, at last taking command of the rallies, built a 4-1 lead. Kukushkin, suddenly the calmest man in the stadium, fought back.
At 5-5, Kecmanovic looked to have dealt the final blow when his passing shot proved too tricky for Kukushkin to handle. But the drama was not done yet. Depending on your stance, it became either excruciating or comical how much the momentum switched back and forth. In all, Kecmanovic held four match points, while Kukushkin eventually clinched victory on his fifth as a shot from Kecmanovic drifted wide. 
It had been a match with numerous crescendos where the finish line kept getting further away as both players stretched each other to the limit. When it was over, all Kukushkin could do was fall on his back, releasing the tension and letting out the elation. 
"That's why we play tennis, for this kind of match, I will remember forever", Kukushkin said afterwards. "I was just fighting till the end. I knew before the match if I'm going to be tight and not go for the winners, I will not win the match. So I told myself before the match 'just go for it, don't be afraid, no matter of the score don't be afraid. If you see the ball and you know you can play a winner, just go for it.' Probably it helps me a lot that I wasn't afraid when I was down the match points."
Kukushkin's victory put Kazakhstan within one match of reaching the semi-finals for the first time in its history, following five quarter-final defeats since 2011. But making history is not supposed to be easy and Serbia could now call on Djokovic. 
That's why we play tennis, for this kind of match, I will remember forever (Mikhail Kukushkin)
The world No.1 probably expected to be attempting to send Serbia through to the semi-finals when he took on Bublik. Instead, his role was to keep Serbia alive in the competition and he carried it out commandingly. 
With 840 aces, Bublik was the ace leader on the ATP Tour this year, but his serve let him down in the opening set as five double faults and a first serve percentage down at 48% proved costly. Despite only converting one of his nine break points, Djokovic eased through the opener in just 37 minutes. 
The only moment of danger for Djokovic came at the start of the second set when he faced break points, but after navigating that mini surge from Bublik, he secured a break for himself in the next game, which he never came close to surrendering. Trailing 3-6, 4-5 Bublik saved a match point with a big forehand winner, and then caught Djokovic out with an underarm serve, but Djokovic maintained his composure to serve it out. 
After spending most of the first match cheering and agonising from the stands, it was an impressive feat from Djokovic to step onto the court so calmly and confidently. And so to the doubles.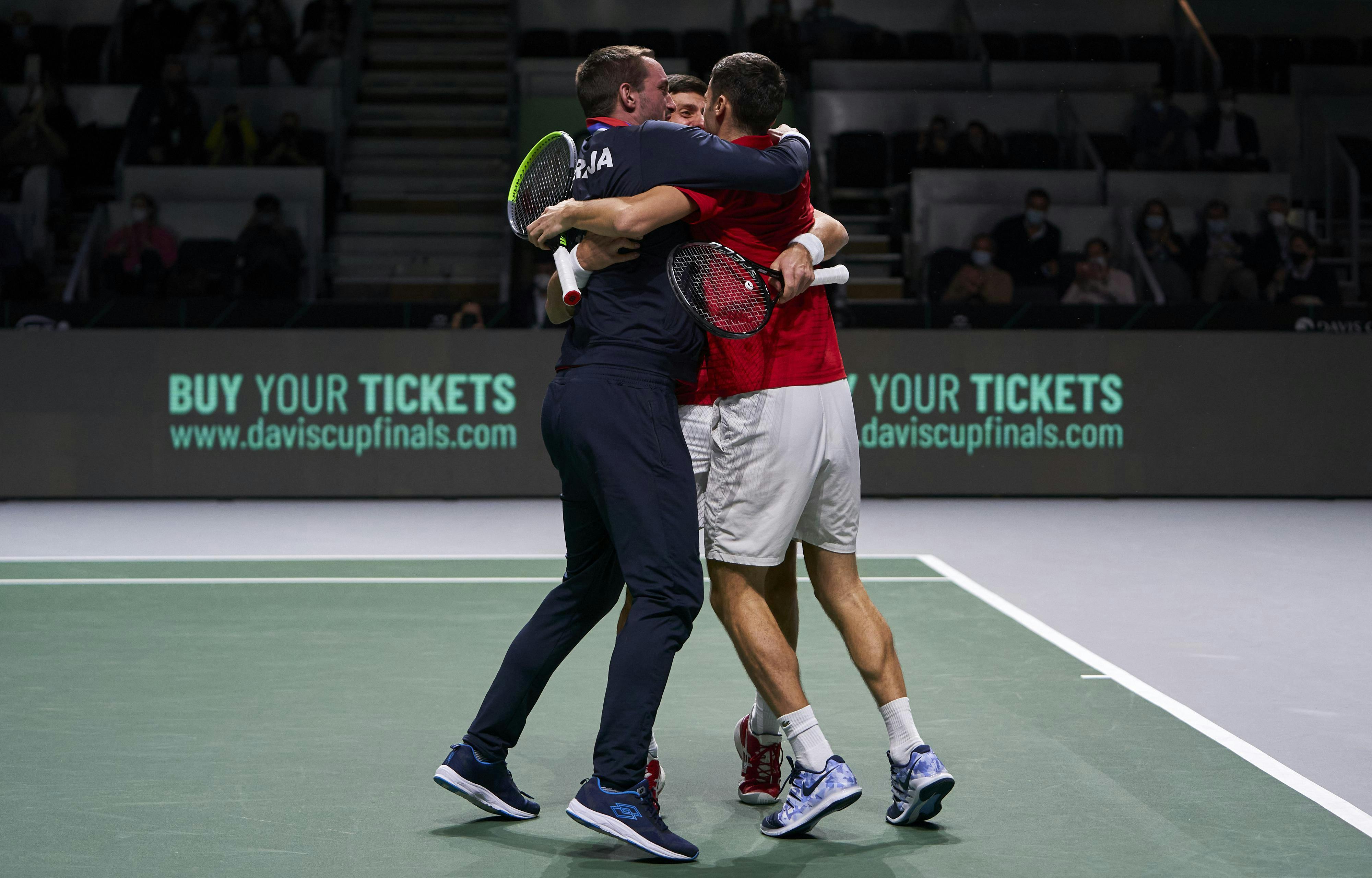 Djokovic had not won a Davis Cup doubles match since 2015. In fact, he came into this one on a run of three defeats, including a loss against Golubev and Nedovyesov in 2016 and a loss alongside Cacic in their Group F match against Germany last week. 
The signs may not have been positive for them but the Serbian pair made a fast start on Wednesday night. After Djokovic threaded a forehand up the line to create break point, Golubev missed a smash to hand Serbia a 3-2 lead. The Serbians then pulled further ahead thanks to some fine play from Cacic and they clinched the opening set with a high volley winner from Djokovic. 
The Serbs may have taken the first set with a spring in their step, but it was about to come crashing down. With Djokovic struggling to impose himself, and with Cacic's level dropping alarmingly, the Kazakhs capitalised. Two breaks of the Cacic serve were enough for them to take the second set 6-2. 
The opening stages of the third set were closely fought and for Serbia the key game was the fourth, on Cacic's serve. Having been broken twice in a row, the 30-year-old managed to hold on this time, and by overcoming that hurdle it was as though the pair were liberated. In the very next game, at 2-2, Djokovic and Cacic each caught hold of some returns to set up double break point. When a lob from Golubev flew long, the Serbs celebrated with a chest bump. 
They never looked back. With Cacic jumping up and down, perhaps a mixture of nerves and excitement, he raised his level again. The final game showcased Djokovic's return, as the world No.1 kept setting up match point from the deuce court. It was only a matter of time before Cacic eventually nailed one himself, and when he did, Serbia secured a famous victory. 
#DavisCupFinals #byRakuten