It took the Russian Tennis Federation less than two hours to reach the Davis Cup final after Daniil Medvedev beat Jan-Lennard Struff 64, 64 and Andrey Rublev thrashed Dominik Koepfer 64, 60 to give their side a comprehensive win over Germany. It means RTF will face Croatia on Sunday, with both teams looking to win the Davis Cup for the third time.
There was some consolation for Germany as Kevin Krawietz and Tim Puetz beat Aslan Karatsev and Karen Khachanov 46, 63, 64 in the doubles to maintain their perfect, unbeaten Davis Cup records and bring the final score to RTF 2-1 Germany.
With four singles players all ranked in the top 30, the RTF squad is the envy of the competition, and this felt like the tie where they really asserted their dominance, not least because Rublev took his game to another level. 
"In other matches I was feeling I'm winning quite easy, I don't need to do much effort, and in the end I was completely relaxed", Rublev said afterwards. "I was giving up to the other guy. Then I was losing or winning in three sets. The difference today was since the beginning, I was pumped, I was try more on winning, to play as better as I can, to not give any hope, any chance. In the end I was able to win quite easy." 
While Rublev had toiled in his previous matches, Medvedev had been convincing , and he kept up his record of not losing a set all tournament against Struff. After the opening eight games went with serve, the pivotal moment came with Struff serving at 4-4.
Medvedev carved out three break point opportunities, Struff saved the first two with bold net approaches, but then Medvedev picked him off to convert at the third attempt. 
People still don't understand how to make me lose, they should support me (Daniil Medvedev)
Making 70% of his first serves and committing just eight unforced errors in the entire match, it was never going to be easy for Struff to live with Medvedev. In the second set, despite suffering from a nose bleed, the Russian secured the early break and never looked back.
Perhaps the biggest drama came at the end of the match, with the crowd whistling and booing Medvedev as he secured victory. The Russian lapped it up, encouraged them to boo more, and pointed down at the court to make it clear that he owns it. During the on-court interview, Medvedev provoked the fans even more. 
"I'm really happy for the team to be in the final. Amazing two weeks so far for us. Beating Spain was the highlight, I think beating Spain in Madrid, for all of us in the locker room we so happy to beat the home favourites. It started in 2019 but I'm not going to be tired to say it. People still don't understand how to make me lose, they should support me, so it's ok guys, continue, and I'm going to just win."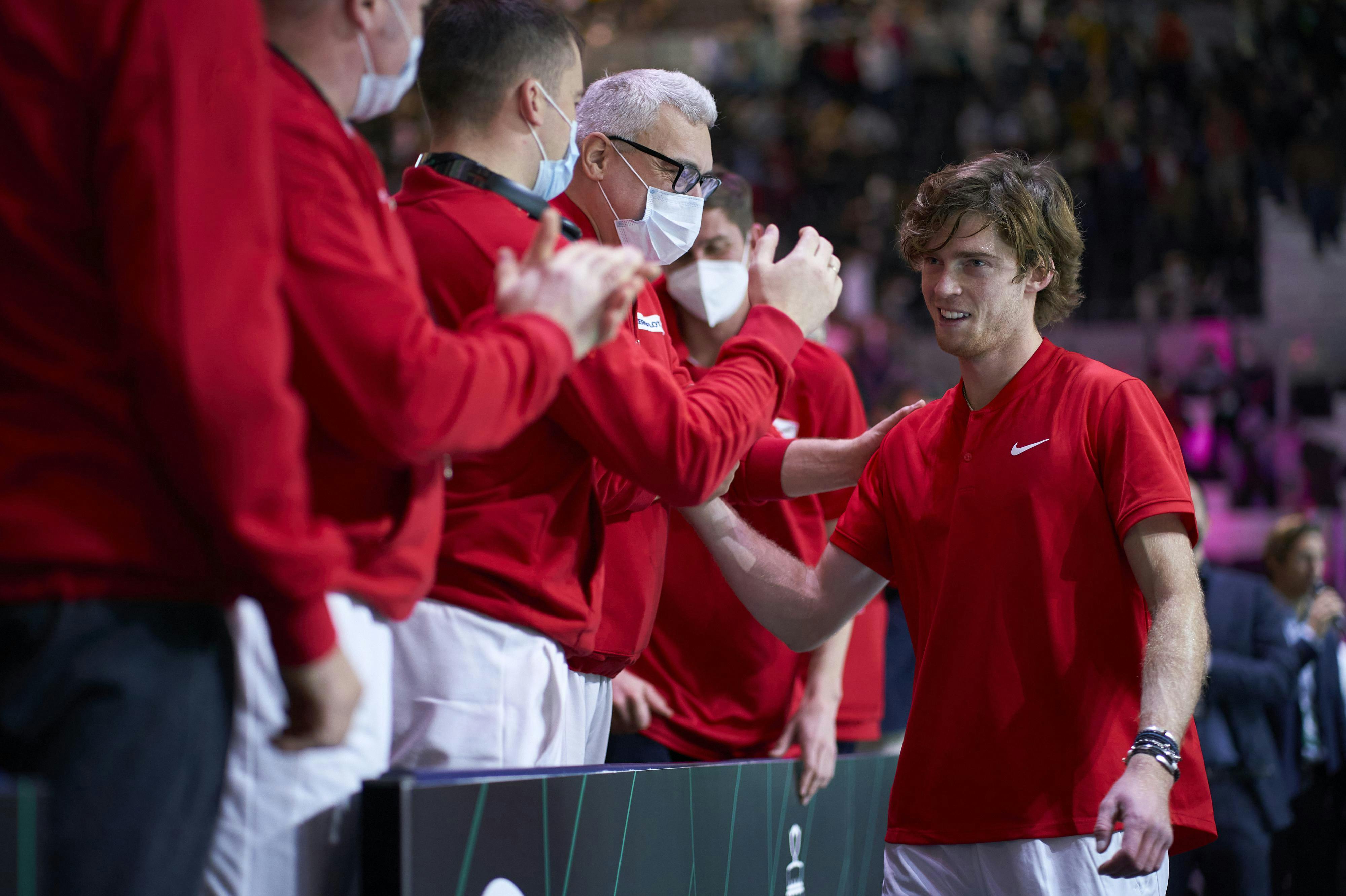 After those scenes, captain Shamil Tarpischev was presented with a cake to celebrate his 100th tie in charge. He first captained the Russian Tennis Federation team in 1974 and began his current spell as captain in 1997, missing just one tie since then. 
Tarpischev guided the RTF team to their only two Davis Cup titles to date, in 2002 and 2006, and today's performance should make him confident about adding a third tomorrow, especially because Rublev appears to have found his best form. 
The world No.5 made a sharp start against Koepfer, breaking in the the third game and consolidating with a love hold. After that, strong serving was the foundation of Rublev's set as he fired six aces and won 94% of the points behind his first serve, often setting up the point for his destructive forehand to take over.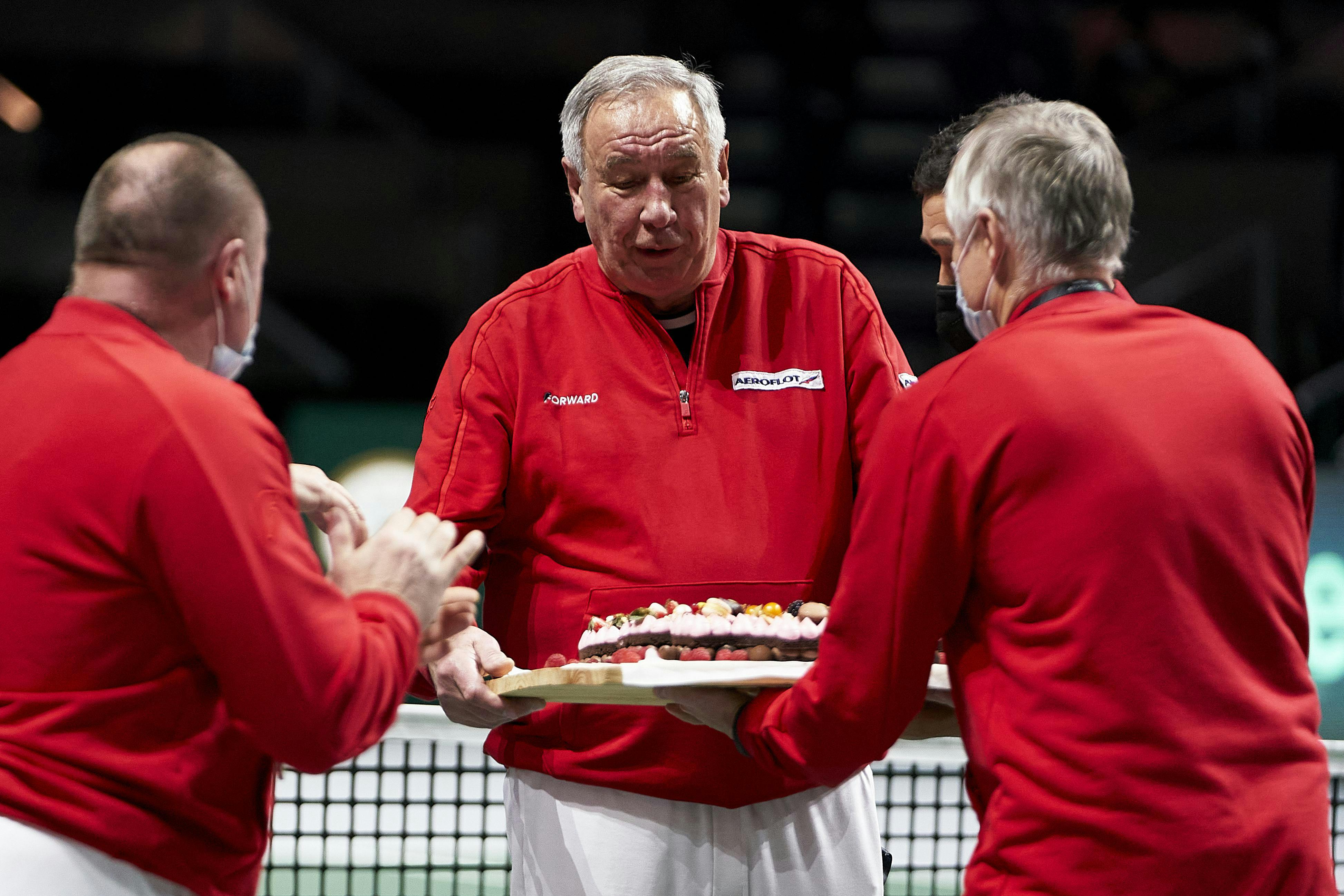 It was the fourth time this tournament that Rublev had won the opening set, but on all three previous occasions he'd gone on to lose the second and be stretched to a decider. Keen to avoid a repeat of those lapses, Rublev kept up his intensity at the start of the second set, breaking in the very first game with more fearsome hitting. 
By this point it was clear that this was a different Rublev to the one who'd played in the first three matches - more focused, more confident, more ruthless. 
With the match going by in a hurry, the German fans inside the Madrid Arena tried to rally their man, but Koepfer's forehand kept leaking errors and there was no let-up at all from Rublev. A single break quickly became a double break, which quickly became a triple break. After just 49 minutes, it was over. 
#DavisCupFinals #byRakuten