Novak Djokovic arrived in Madrid on Monday alongside the rest of the Serbian team ahead of Wednesday's quarter-final clash against Kazakhstan. And who should the world No.1 meet at Madrid Arena? World No.2 Daniil Medvedev and the rest of the Russian team who are preparing for their quarter-final against Sweden on Thursday.
Serbia, who won the title in 2010 and contested the final in 2013, qualified for the quarter-finals as one of the two best runners-up and had to wait anxiously for the outcome of Group A's clash between Russian Tennis Federation and Spain before they knew that they would be travelling to Madrid for a meeting with Kazakhstan.
"We watched it almost till one o'clock in the morning, we were obviously uncertain who's going to win and whether we're going to fly home or come as a team to Madrid, so luckily for us we're here", said Djokovic on his arrival to the Madrid Arena.
"We really wanted to come to Madrid and we had a tough second tie against Germany. Morale went down a little bit but we were hoping for a good result and then we were calculating the entire day yesterday trying to understand in what kind of scenario we're going to go through, and it really went down to the last few points", he explained.
"Unfortunately for the hosting nation, for Spain, they're out but we're in, so we're excited and hopefully we can get a chance to go through."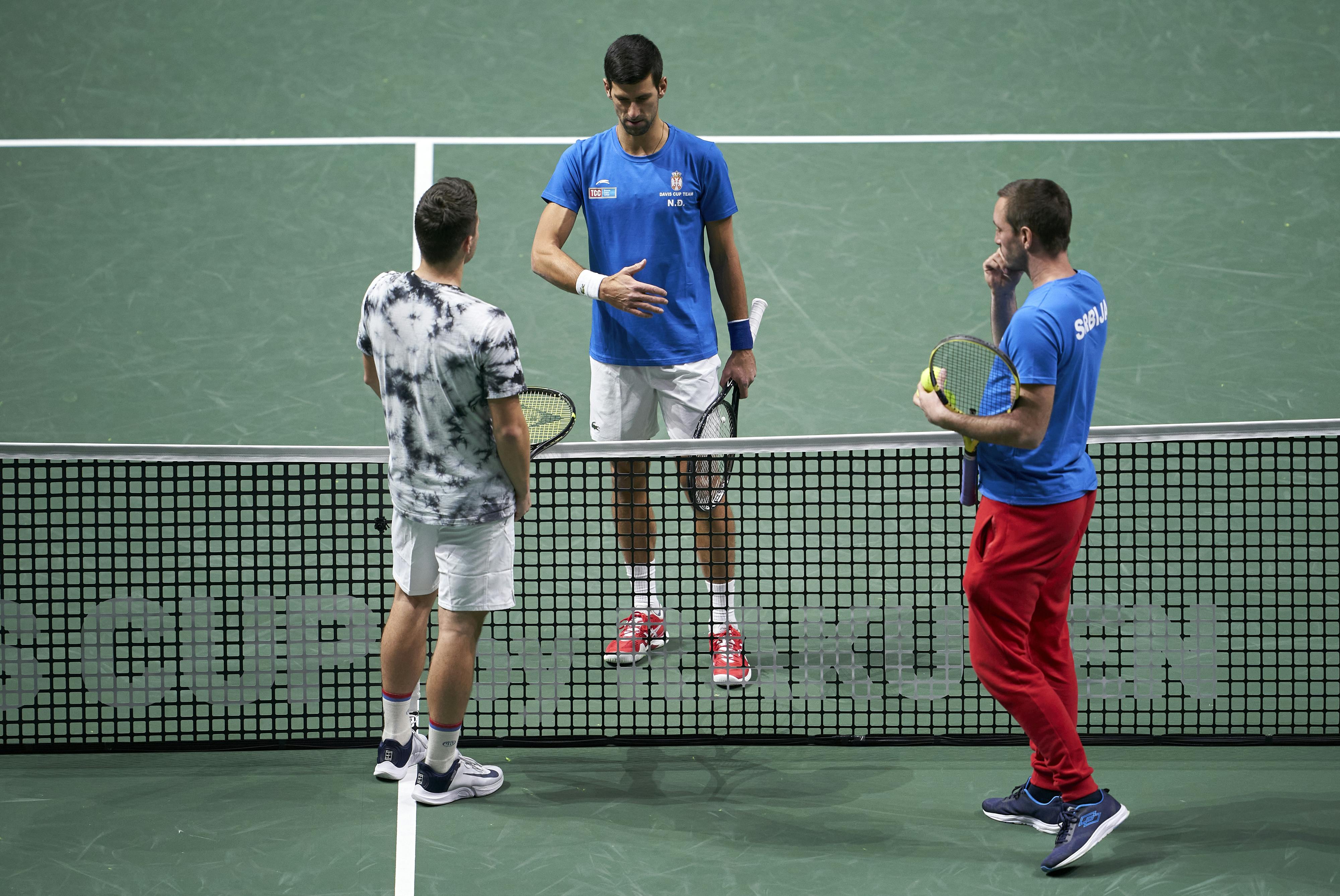 Serbia will have a tough task against Group B winners Kazakhstan when they meet in the quarter-finals on Wednesday, and Djokovic is taking nothing for granted.
"They won their group, they have Bublik who is a great player, all-round player, tall guy, big serve, just big game overall, he's got a lot of talent, very good hands. [They have] Kukushkin, who is a veteran, who's been in the national team for a very long time. I remember I had over a five-hour match against him in Davis Cup years ago in Serbia, he's a very tough guy to play against. And they've got very good doubles so I think they're probably the most underestimated team.
"So, we're just pleased to go through in the quarters. We're going to get some practice and we are very excited to play in front of the crowd because we didn't have that in Austria", finished 'Nole'.
Djokovic is a long-time supporter of the Davis Cup, and Serbia's Group F clash against Germany on Saturday marked his 50th match in the competition, although it's not something he'd had on his mind.
"Honestly, I had to be reminded by my team that it was coming," he said. "It's been more than 15 years since I made my debut and playing for my country has been an honour and a privilege."
#DavisCupFinals #byRakuten