Juan Sebastian Cabal and Robert Farah are one of the most well-established and consistent pairings on the tour, taking the World No.1 spot in July 2019 after winning their first Grand Slam title at Wimbledon, followed by the US Open. They will be representing Colombia in the Finals.
Thanks to the new Finals format, Colombia is one of the teams that made it into the direct fight for the title. How do you remember the experience of being in the Finals 2019 alongside the best teams in the world?
RF: We had been competing in the play-offs to get into the World Group for several years. We missed it five times before 2019 and for us to beat Sweden and finally qualify for the first time for the World Group in 2019 was like a dream, a dream that we had had since 2010, which was the first time we played – against the United States – and we fell short. 
We failed several times by just one point and so to achieve this World Group, even with the new format – we knew we had a good enough team to achieve the same with the old format. I think we are a pretty strong team, especially in Bogota. Daniel Galan in Bogota is a 'top 10 player', he plays incredible tennis in Bogota, and Sebas [Cabal] and I can always take the doubles point and qualify. Now it's time to go to Turin and give everything on this new occasion.
In the 2019 Finals the new format made it clear that the doubles is still key. Is the Davis Cup still one of the competitions where it is most relevant?
JSC: I think the doubles in the Davis Cup has always been very important, even in the previous format, it was a match that put you ahead or gave you hope or simply ended the tie. It was always a very valuable point, and it is in this format too.  
What does it mean to you to play for your country?
RF: I think Sebas and I always approach any competition with a strong focus, but the Davis Cup is an even bigger commitment. What you feel in the Davis Cup, the excitement and also the pressure you feel representing your country, is unparalleled compared with any other tournament on the tour. There is greater pressure and commitment to your team and your country. That makes the competition more special and perhaps the victories are more appreciated and the defeats more painful. Thankfully we have achieved good things in the Davis Cup and the truth is that we have seen both sides of the coin because we have also had defeats that have hurt a lot. From childhood you grow up watching the Davis Cup and dreaming of being able to compete for your country and once it becomes a reality you gain experience. We have been playing for Colombia for more than 10 years and I think that experience works in our favour.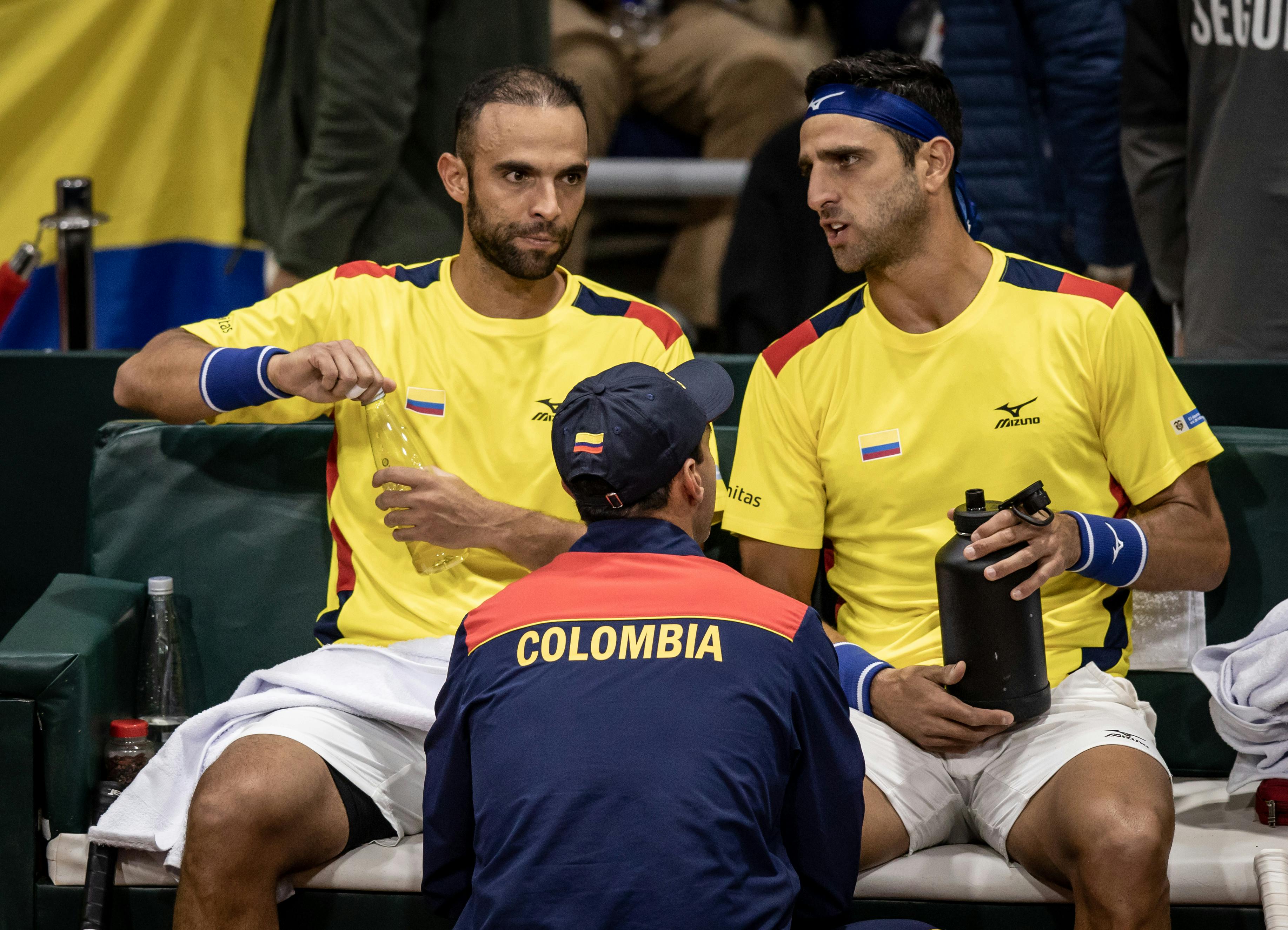 "In our group, with the USA and Italy, it's going to be a good challenge, not as favourites, but with lots to achieve, we can do a lot of damage"
You have been together on the tennis court for many years, and you have a very good personal relationship. To what extent is a good relationship key to the success of a doubles partnership?
RF: ... if you get on well, it's always a plus. I don't think I would play if I didn't get on well with the other player. 
The other day I was talking to a player, not to mention names, who played for several years with another player, and I was asking him questions about the other player and he didn't know how to answer them! 
We are on 'automatic' now because we've known each other since we were five years old and have lived together since we were 10 or 11 years old. We were able to live together for many years, now we don't, but we have a very strong partnership and camaraderie and that's not only with Sebas, but with those who were part of the team before, Falla, who is now our captain, Santi Giraldo, Salamanca... the Colsanitas team we created when we were kids and we don't think about whether we are friends or not... We are almost like family!
What does the doubles game require that the singles game does not?
JSC: It's totally different... from the way we prepare to the way we train. Doubles points are shorter, they are faster, there is a lot of physical explosion, you have to stay very low all the time while in singles, the ball requires more movement, the wear and tear is more physical, longer points, not so much explosion but a lot of endurance at speed. 
Tennis-wise, it's a totally different approach, it's another world... That's why we train for doubles, to cover those gaps that we had at the beginning, to know how to move, to know what to do, to know how to approach and cover the court as much as possible depending on where the ball is going and how you're approaching the point. That's the task. 
Colombia will be in Group E with none other than the United States and Italy. Quite a challenge...
JSC: It's going to be a very exciting challenge. Two great teams, two nations that have always had very good players throughout history. We are going in with a great challenge, not as favourites in the group, but with lots to achieve, we can do a lot of damage. We have to get on the court, play and surprise. It's a group in which we have a lot to gain and little to lose, so to speak... Robert and I are known to them, we know them all... Obviously it's going to be the first time we've faced these countries. It's going to be a good experience because the USA are what they are and Italy are playing at home. We will try to do our thing, we will surely have the support of Colombians there, as always, and it's the Davis Cup, which is always a different competition.
Cheer them in Turin! #DavisCupFinals
Tickets here