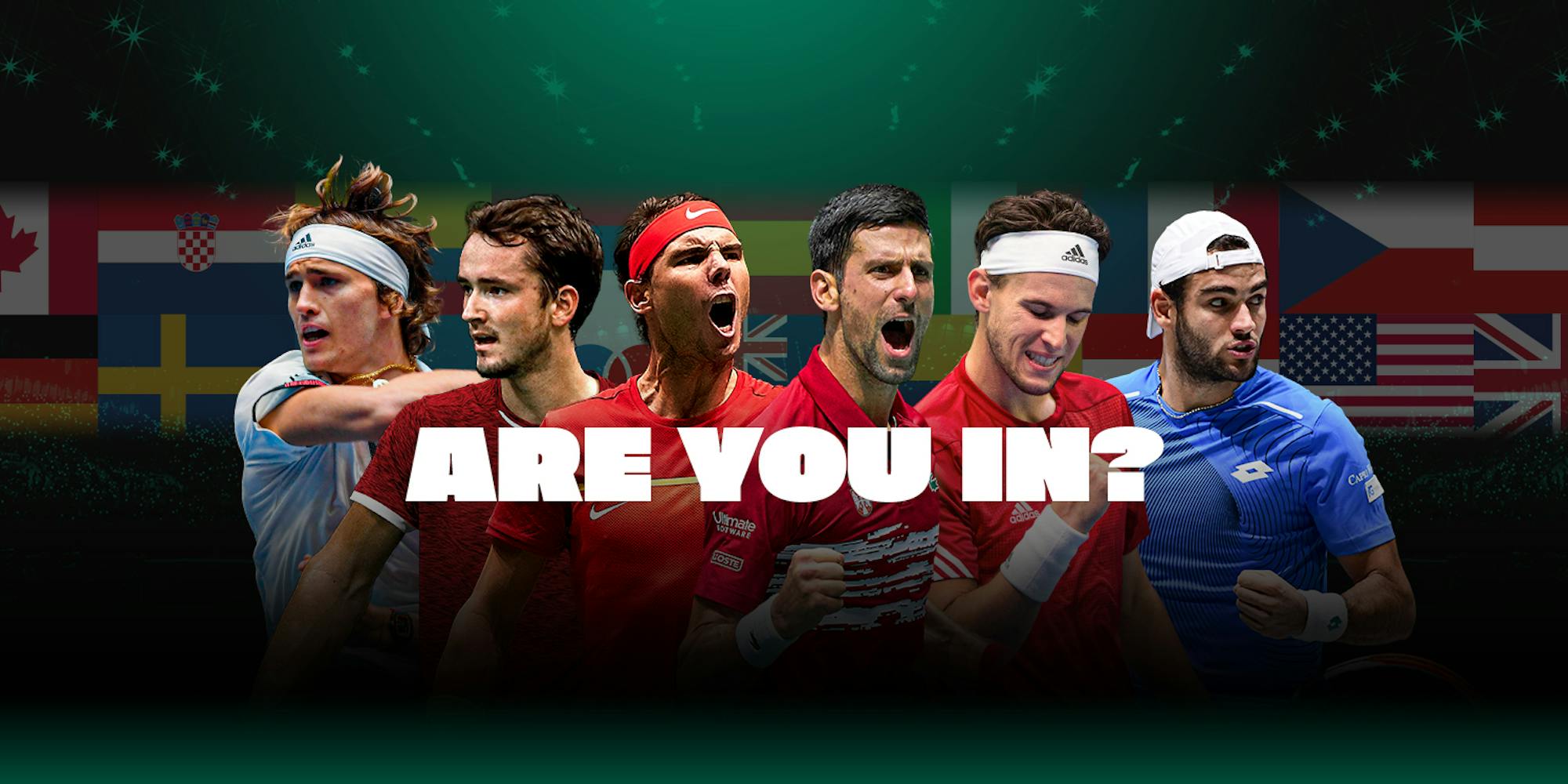 Group Stage
Quarter-finals
Semi-finals
Final
Ticket Packages
Madrid (ESP)
Multi-session packages to enjoy more than one tie
More information
VIP Hospitality
The 1900 Club - Madrid (ESP)
The combination of the best tennis and gastronomy - an unforgettable experience!
More information
Frequently asked questions
WHERE CAN I BUY TICKETS AND WHEN?
WHAT TYPES OF TICKETS ARE THERE AND WHAT ARE THE PRICES?
WHAT ARE PREMIUM TICKETS?
DO TICKETS HAVE ALLOCATED SEATS?
ARE THERE SPECIAL PRICES FOR CHILDREN? WHAT IS THE MINIMUM AGE FOR A CHILD TO REQUIRE A TICKET?
WHAT DOES MY TICKET ENTITLE ME TO?
IS THERE A CHARGE FOR TAXES AND HANDLING?
IS THE TIME SHOWN ON MY TICKET THE STARTING TIME OF THE MATCHES?
DO YOU HAVE A SPECIAL AREA FOR WHEELCHAIR USERS?
CAN TICKETS BE CHANGED OR REFUNDED AFTER PURCHASE?
HOW WILL I KNOW WHERE FELLOW SUPPORTERS WILL BE SITTING DURING THE TIES?
IN WHICH SECTOR OF THE COURT DOES THE CHAIR UMPIRE SIT?
WHO DO I CONTACT IF I HAVE QUERIES?
CAN TICKETS BE REPRINTED IN CASE OF LOSS?
WHAT ARE THE AUTHORISED SALES CHANNELS WHERE I CAN PURCHASE TICKETS?
IS THERE A LIMIT TO HOW MANY TICKETS I CAN BUY?
HOW MANY SEATS DOES MADRID ARENA HAVE?
¿WILL THE EVENT SELL ITS FULL CAPACITY?
¿WHAT SECURITY MEASURES WILL EXIST FOR ATTENDEES AGAINST COVID 19?
¿IN CASE THE EVENT IS HELD WITHOUT PUBLIC, WILL I GET A REFUND FOR MY TICKETS?
Additional information
Children between the ages of 0 and 5 do not need to pay a ticket to access the venue, but they will not have a seat, and will need to seat on their parent's lap
Children between the ages of 6 and 8 will have a special price, as will children between the ages of 9 and 12
Children between the ages of 6 and 8 will have a special price, as will children between the ages of 9 and 12
When purchasing an individual ticket, spectators will be able to see one whole tie between two nations (2 singles and one doubles). *It is compulsory for nations to play the doubles in Group Stage, but not in the Knock-out Phase
Tickets will be numbered, but due to COVID regulation, when buying, only a maximum of 4 tickets can be purchased together per session
If the event is held without any public or the public is smaller than the percentage that we have put up for sale, money will be returned to all the people that due to capacity reasons, cannot enter the event
Due to the health crisis caused by Covid-19, our main objective in the celebration of the Davis Cup by Rakuten Finals 2021 is to guarantee the safety of our clients and comply with the established regulations. The health and safety of our partners, players, fans, suppliers, and staff continues to be our top priority. In accordance with this, Komos Tennis will implement a security protocol that must be complied with by all those attending the event. The venue capacity will be limited according to the current regulations established by the Region of Madrid, and following the restrictions and recommendations that are marked by the Ministry of Health of that region.
The sales channels will apply to these prices handling costs. Handling costs may vary depending on the price and will comply with the following table:
- Tickets below 16€: 1,50€ of handling costs
- Tickets between 16€ and 50€: 2€ of handling costs
- Tickets between 50€ and 100€: 3€ of handling costs
- Tickets between 100€ and 200€: 3,5€ of handling costs
- Tickets over 200€: 5€ of handling costs
OTHER SALES CHANNELS
www.atrapalo.com
www.entradas.com
www.feverup.com
www.marcaentradas.com
www.taquilla.com
www.tickitto.com
www.ticketmaster.es

AUTHORIZED AGENCIES
www.viajeselcorteingles.es (Agencia de Viajes Oficial de las Davis Cup by Rakuten Finals)
For more information about ticketing